By Fiona Vernon
Parents previously impelled their children to go to a traditional college with the idea that if they didn't have a degree, no company would hire them. In recent years, this idea has transitioned into the fact that there are many other local trade schools that focus on specific applications. Whether a high school graduate in North Canton, Ohio, is looking to specialize in men's haircutting or a middle-aged mom in Cleveland, Ohio, is considering self-employment options, Akron Barber College provides the education for them to learn how to style, relax, perm, and color hair while becoming a certified barber. Not only does barber training at this local barber college include haircutting classes focusing on scientific barbering and modern techniques, but they also teach traditional barber services and salesmanship. They have a student barbershop for practice with highly competitive pricing at haircuts for $7, face shaves for $3, and facials for $3. Enrolling in barber school has never been easier for individuals from Akron, Ohio, to Youngstown, Ohio, who want to invest in their future with Akron Barber College offering registration and start times every Tuesday. Call or visit today!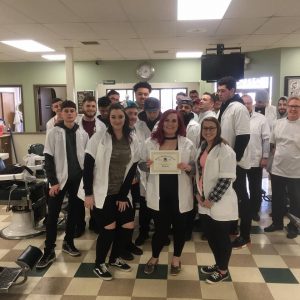 No matter the level of experience or knowledge that individuals from Cleveland to Akron possess who wish to become a certified barber, Akron Barber College offers comprehensive training that begins with theoretical study in the classroom. This initial part of their education focuses on hygiene, sanitation, and sterilization; rules, regulations, and laws; history; ethics; shop management for self-employment options; stropping and shaving; men's haircutting; scalp treatment; massage theory; bacteriology and diseases of the skin and scalp; as well as barber salesmanship and more. Scientific barbering classes are the next step in the classroom curriculum, which includes learning how to color hair, perm hair, and relax hair, as well as traditional barber services that include hot oil shampoo, shampoo and tonic, scientific rest facials, clay pack facials, and rolling cream facial shaving with the discipline behind the actions.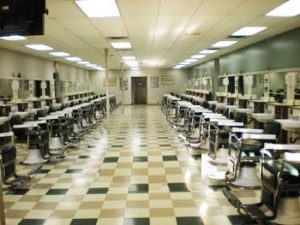 Every student needs practical application of what they have learned in the classroom and will gain the necessary experience in the next phase of general barber practice in the student barbershop. In addition to applying their modern haircutting techniques, students at Akron Barber College will advance their knowledge of how to style hair on genuine clients, from long hair and razor cutting to permanent waving and men's hairpieces. Prospective students from Youngstown to North Canton may take advantage of enrolling at this local barber college and begin their school training period on Tuesday of any week, dependent upon available openings. Pupils are required to meet the 1,800 clock hour requirement for graduation from this local trade school, which will take about 11 months to complete while attending a variety of classes for eight hours a day and five days each week. It is understandable that not everyone can devote such a large portion of their life to an education, so Akron Barber College also offers the opportunity of creating a customized part-time schedule. Once completing all requirements, they will then take the Ohio State Barber Board test to become a certified barber.
Whether looking for a local trade school at which someone from Akron, Ohio, can invest in their future and give themselves self-employment options, or an individual in North Canton, Ohio, wants to become a certified barber to help others look and feel their best, enrolling in barber school at Akron Barber College provides education on traditional barber services, as well as modern haircutting techniques. This local barber college provides barber training on salesmanship, scientific barbering, how to style, color, relax, and perm hair, and men's haircutting classes. Anyone from Youngstown, Ohio, to Cleveland, Ohio, who wants to either take advantage of the fantastic pricing in the student barbershop or is interested in enrolling in barber school, can visit or call Akron Barber College today to begin the work toward their future.
Akron Barber College
2828 S. Arlington Rd.
Akron, Ohio, 44312
330.644.9114
Akronbarbercollege.com
Facebook Page