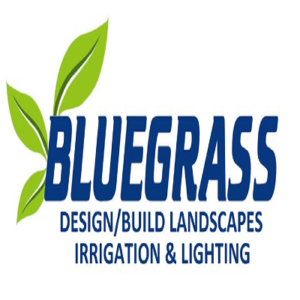 Not very long ago, children had sugar plums dancing in their heads. Then they stood at the window watching the snow fall, hoping for a day off of school. Despite the cold temperatures, you might find yourself standing at the window daydreaming of ways to make the yard look beautiful when the snow melts. Bluegrass is full-service custom design and build landscaping company who helps you add value to your home while you fall back in love with it.
One of the best ways to add curb appeal and improve your home's value without performing any renovations is to call us at Bluegrass for professional landscape design. Imagine pouring your favorite beverage on a warm summer evening and strolling across the stone walkway amongst the gentle landscape lighting to lounge in the seating area in front of the fire pit. We can help make your dream of a cozy outdoor living area a reality.
How can your lawn be amazing without constant maintenance?
When you drive by your neighbor's house, you always see him outside with a hose in his hand. You don't love yardwork, but you love the way it looks. The best thing you can do instead of just settling for your mediocre yard is to call us at Bluegrass. We can help with the smallest of ideas to make your front yard appealing, as well as the making your backyard a retreat that you can enjoy every night.
You say you want low maintenance? Let's start with artificial grass. The installation of a synthetic lawn is something that you may never have considered, but the benefits will astound you. It not only saves you time in cutting, watering, and trimming, but it also saves you money. You won't have to buy the equipment to do all those tasks, nor the fuel for them. Your water bill won't go up every summer because you don't have to water it. Additionally, you won't have to ever replace the equipment. We use only the best SYNLawn products and can give you an extension selection of grass types to fit your specific needs.
If you decide this isn't the way you want to go but still don't want the maintenance, we were established over 20 years ago by specializing in irrigation installations. We bring the experience of each project to the next one so that you are receiving the best products and service we have to offer. This means you won't be known as the guy with the hose in his hand in the front yard. You set the timer for the irrigation system and go about spending time with your family.
How do you design an outdoor living area with a great atmosphere?
The previous ideas are the practical landscaping decisions necessary to establish a base. Now let's talk about the beauty that fits not only your lifestyle, but also your aesthetic. One of the things that homeowners don't always consider is making their backyard an extension of their living area.
With people having spent more time at home in the last few years to stay safe from the effects of the pandemic, they have realized the value of creating a space that makes them happy. This includes the backyard. You want to spend as much time outside as possible, since it isn't always a comfortable temperature or dry.
We create designs based on the area that you have available and the specifications that you give us. We can make it as pet and kid friendly as you want and work around the trees, fences, pools, and anything else present. We can even add or remove any features. Our services include:
Landscape design
Patio design and construction
Landscape lighting
Holiday and event lighting
Irrigation system installation
Drainage systems
Pet fencing
SYNLawn artificial grass
Backyard water features
Perennial flower gardens and plants
Hardscaping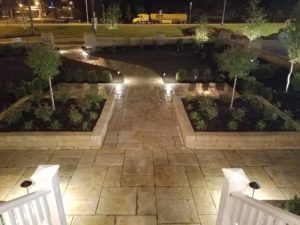 As you can see, there are so many variables involved in designing and building an outdoor living area that will appeal to each of your senses. Here at Bluegrass, we have decades of experience that allow us to hear what you say and create a space according to your needs. There is no project too big or too small for which you can call us. When you want to invest in your happiness, you can feel confident in the commitment and dedication of Bluegrass.
Bluegrass Incorporated
4855 Hills and Dales Rd NW
Canton, Ohio 44708
330.492.8733
bluegrassincorporated.com/
Facebook