By Fiona Vernon
It is the middle of winter and communities from Stow, Ohio, to Richfield, Ohio, are struggling for motivation from the lack of sunshine. They need something to which they can look forward, and Akron Barber College has just the solution with a curriculum that can help them start a new career by becoming a certified barber. Individuals who would like to make good money can rely on this local barber college to educate them in the ways of traditional barber services, as well as modern haircutting techniques. The benefits of barber training not only involve finding a career that can lead to self-employment but also jobs without a dress code where they can choose their own hours. This local trade school teaches their pupils the theory behind the practice. Additionally, they provide barber services for the public in their student workshop, where apprentices can practice the techniques that they have learned — such as shaving and trimming facial hair and how to style, perm, and relax hair. People from Mogadore, Ohio, to Akron, Ohio, who are looking to improve their position with a new education will love the results with one phone call to Akron Barber College (330.644.9114).
This local family-owned and run barber college has been helping students from Richfield to Mogadore become certified barbers and start new careers since 1920. Many people dream of finding jobs where they help others feel good about themselves while making good money, choosing their own hours, and not having to worry about a dress code. These are some of the benefits to which graduates from Akron Barber College can look forward as they establish themselves in career that leads to a high chance of self-employment. This local trade school provides classroom and theoretical learning on subjects that include ethics and shop management, sanitation and sterilization, bacteriology and diseases of the skin and scalp, hygiene, rules and regulations, and more. Additionally, pupils will learn stropping and shaving, men's and women's haircutting, how to style, perm, color, and cut all different hair textures, as well as shave and trim facial hair. Akron Barber College also offers barber services for the public in the student barbershop, where students put what they have learned into practice with discounts on razor cutting, coloring, styling, perms, relaxing, hot oil shampoo, clay pack and scientific ret facial, men's hairpieces, and more. Call 330.644.9114 today for an appointment!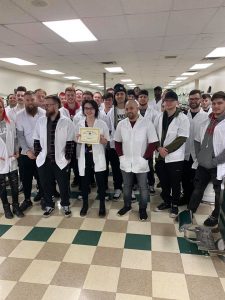 Enrolling at Akron Barber College is easy and new students can start their barber training on any Tuesday as long as there is an opening. Classes are five days a week and takes approximately 11 months to complete for full-time students at eight hours a day and 40 hours a week for 48 weeks. Students are graded based on classwork, performance, and preparation, with grades being issued at the end of each week. This 1,800-hour program requires a strict adherence to attendance with certain circumstances being allowed. This local trade school also offers placement services. While they don't guarantee employment to their graduates, they do assist them in locating potential employers and are proud of their placement record. Anyone from in and around Stow who decides to attend Akron Barber College to learn traditional barber services and modern haircutting techniques can be confident in their decision!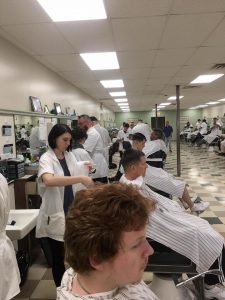 Individuals enter the work force with a gleam in their eye and the hope of changing the world. Akron Barber College can keep these dreams alive and teach students from Mogadore, Ohio, to Stow, Ohio, how to help their clients feel good about themselves. The traditional barber services and modern men's and women's haircutting techniques provided in the barber training can help graduates start new careers that lead to self-employment where they can choose their own hours and dress code while making good money. This local barber college educates its pupils how to style, cut, perm, color, and relax hair, as well as shave and trim facial hair. Whether someone in Akron, Ohio, is looking for discounts on barber services for the public or another from Richfield, Ohio, wants to take advantage of the benefits of becoming a certified barber, local trade school Akron Barber College offers a comprehensive student barbershop and extensive curriculum!
 
Akron Barber College
2828 S. Arlington Rd.
Akron, Ohio, 44312
330.644.9114
Akronbarbercollege.com
Facebook Page