By Fiona Vernon
Winter is fully upon most of the country, causing some concern on the effect of the snow and ice on everything from snowmobile trailers to semi trailers. Leonard Truck and Trailer's service department offers everything from system checks and DOT inspections to maintenance and replacement parts. Not only do they take the means to ensure the safety of every customer from Pittsburgh, Pennsylvania, to Charlotte, North Carolina, but they also stock over 700 affordable new and used trailers  — including car haulers, living quarter horse trailers and horse trailers under 20k, enclosed cargo and livestock trailers, dump trailers, and utility and equipment trailers. This local truck and trailer dealership makes it easy to complete the set of a dream bumper pull or gooseneck trailer with a wide selection of low-mileage used trucks on hand, as well as nationwide delivery, short and long-term trailer rentals, and easy in-house financing with instant approval. Everyone from New York, New York, to Nashville, Tennessee, can trust Leonard Truck and Trailer for any type of repair, upgrade, or retrofitting at reasonable turnaround time and prices! Call 330.538.2112 today!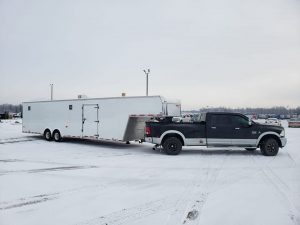 Leonard Truck and Trailer is proud to say that they have the biggest selection of horse trailers in the entire country. It puts pressure on them to live up to their claim. They do so by not only being a one-stop location for all things regarding trailers, but they also have a service department that exceeds the expectations of people from Charlotte to New York on a daily basis. They choose their new and used trailers with the highest of standards, as well as their highly-trained team of parts and service professionals. This local trailer and truck dealership wants to create an air of trust with the trailer safety and maintenance that they provide. The experience that they have accumulated over 57 years allows them to excel at stocking or finding any replacement part and performing every level of maintenance and repair — including installing new awnings, detailing a living quarters horse trailer, replacing axles, and winterizing a trailer for storage. They have quite the selection of service packages from which to choose. For example, their ultimate package includes clean, inspect, repack wheel bearings, replace seals, cotter pins/tabs, inspect and adjust brakes, check tire pressure, check breakaway system, battery condition/ voltage, and wiring, check lights/wiring, check frame, coupler, safety chains, and lube all hinges and latches. Making sure the trust that a driver has in their equipment remains intact.
Leonard Truck and Trailer also provides system checks, which is a full assessment over the interior of the trailer — including the refrigerator, AC, awnings, blinds, hot water heater, and other relevant components, depending on the model. They also have an acid wash, which is the ultimate clean and shine to steel and aluminum trailers, as well as offering the convenience of being authorized as a location for DOT inspections. Leonard Truck and Trailer truly is comprehensive with their 12-bay, 11,000 square foot service department. They cater to the needs of every lifestyle from Nashville to Pittsburgh whether a year-round outdoor enthusiast is looking for a car hauler or snowmobile/ATV trailer or an equestrian wants to upgrade the horse trailer they found a few years ago at Leonard for under 20k to a horse trailer with living quarters. Their easy in-house financing, short and long-term trailer rental, and nationwide delivery make it possible to acquire every type of gooseneck or bumper pull trailer, such as utility, equipment, construction, dump, open or enclosed cargo, semi, and livestock. Additionally, they have a wide selection of low-mileage used trucks with a variety of towing capacities. Stop in, call 330.538.2112, or peruse Leonard's inventory online today!
Leonard Truck and Trailer is so trusted that people from Nashville, Tennessee, to Charlotte, North Carolina, to take advantage of the vast array of new and used trailers with in-house financing, nationwide delivery, short and long-term trailer rentals, and comprehensive service department. The compassionate staff is patient and really listens so that they can accommodate each person's safety needs whether they want replacement parts, repair, maintenance, DOT inspections, and system checks or an affordable trailer. This truck and trailer dealership is loved by the locals, but they are also loved by clients from New York, New York, to Pittsburgh, Pennsylvania, for low-mileage used trucks and 700 gooseneck and bumper pull trailers — including but not limited to enclosed cargo, livestock, snowmobile, car hauler, equipment, dump, utility, horse trailers under 20k, and living quarter horse trailers. Anyone looking for the largest selection of trailers in the country will love what they find at Leonard Truck and Trailer.
 
Leonard Truck & Trailer
12800 Leonard Parkway
North Jackson, Ohio 44451
330.538.2112
https://www.leonardtrailers.com/
Facebook Page