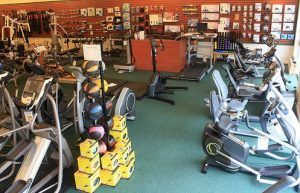 By Gemma Chriss
Countless individuals throughout Decatur, Georgia; Johns Creek, Georgia; Marietta, Georgia; and beyond struggle to achieve their health and fitness goals, largely because they're working with incomplete or inaccurate information. Though investing in and using a new cardio machine or piece of strength-training equipment is certainly better than not exercising at all, focusing all of one's efforts on a single aspect of physical fitness won't necessarily provide the desired results. Knowing that many people find it difficult to create a balanced workout program, the fitness professionals at Premier Fitness Source do their best to shed some light on the issue. Those who visit one of PFS' gym equipment stores in Alpharetta, Georgia or Atlanta, Georgia can not only shop for high-quality exercise products, but take advantage of the fitness tips offered by their staff.
Perhaps the most valuable piece of advice that PFS gives to customers is that balance is of the utmost importance to one's overall health and fitness. A number of individuals visit Premier Fitness Source in order to purchase cardio machines or strength-training equipment, but they don't realize that performing the same workout every day won't allow them to achieve their goals. The fitness professionals at this local gym equipment store are quick to explain this fact to customers who are just getting started on their journey toward health and wellness. To make things even easier, PFS' staff describes the five components of physical fitness so residents throughout Johns Creek, Marietta, Decatur, and beyond know exactly what they should be doing in order to get the most out of their workouts.
The five components of physical fitness are (1) cardio capacity, (2) muscular strength, (3) muscular endurance, (4) body composition/nutrition, and (5) flexibility. In order to achieve one's personal best in terms of fitness, it's crucial to give attention to all five areas. Fortunately for those who don't know where to begin, the fitness professionals at PFS offer helpful tips on how to increase one's fitness level.
Cardio capacity– the body's ability to maintain aerobic exercise (at a target heart rate) for an extended period of time. This aspect of fitness is extremely important because it strengthens the heart, lungs, and vascular system. By adding more aerobic exercises to one's routine, such as cycling or running, the body can operate more efficiently even at rest. Fitness professionals stress cardio exercise as it can help reduce the amount of stress put on the heart and lungs and prevent cardiovascular disease.
Muscular strength– the amount of force the muscles can exert during a physical activity. Without muscular strength, the body would be too weak to keep up with daily activities. One of the easiest ways to increase performance in this area is to incorporate strength-training exercises in one's daily routine, such as lifting free weights and/or using a functional trainer.
Muscular endurance– the body's ability to perform repetitive movements over an extended period of time. Muscular endurance forms a type of bridge between cardio capacity and muscular strength, so it's extremely beneficial to one's overall fitness. Ellipticals and step machines are both excellent choices for those wanting to increase muscular endurance at home.
Body composition/nutrition– the percentage of fat on the body compared to lean body mass. Calculating one's body composition gives a better indication of actual fitness than a scale because the latter doesn't differentiate between muscle and fat. The staff members at PFS recommend a combination of cardio and strength training to decrease fat and increase muscle mass.
Flexibility– the ability to move the joints through their full range of motion without experiencing pain. Flexibility is the most commonly overlooked aspect of fitness, yet it becomes increasingly important as people age. In order to increase one's flexibility, the staff members at PFS strongly advise individuals to perform stretching exercises regularly and to utilize a machine dedicated to this aspect of fitness.
For additional fitness tips, residents throughout Johns Creek, Georgia; Marietta, Georgia; Decatur, Georgia; and beyond are encouraged to visit one of PFS' gym equipment stores in person. The fitness professionals at PFS are always happy to offer advice to those looking for guidance. They can even recommend cardio machines, strength-training equipment and/or flexibility machines based on one's specific needs.
If you'd like to receive FREE DELIVERY (a $99 value), or half off delivery and installation (within local delivery area), click HERE to take a short survey!
Premier Fitness Source—Committed to MORE than your satisfaction!
www.premierfitnesssource.com
Perimeter Store
4520 Olde Perimeter Way
Suite 100
Atlanta, Georgia 30346
Ph: 770.391.0005
Alpharetta Store
800 N Main St
Suite 120
Alpharetta, Georgia 30004
Ph: 770.686.3115
Buckhead Store
277 Pharr Rd NE
Atlanta, Georgia 30305
Ph: 404.458.2133