By Gemma Chriss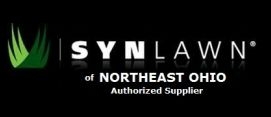 Many individuals throughout the Canton, Ohio and Cleveland, Ohio areas look forward to winter weather. Golf enthusiasts, however, don't often share the same sentiment. When the leaves fall, the temperature drops, and the grass disappears under a blanket of snow, most athletes begin counting down the days until spring. However, what these individuals don't realize is that the arrival of winter doesn't have to bring an end to golf practice. Indoor golf setups have grown in popularity over the years, giving athletes the opportunity to work on their short game during the off season. Unlike the artificial grass of decades past, modern golf turf closely resembles natural grass in both look and feel. As a result, those who opt to install a putting green system in their homes can keep practicing year round. Having installed countless custom putting greens for golfers throughout the greater Akron, Ohio area, SYNLawn of Northeast Ohio is an excellent resource for those interested in having their very own basement, garage, or entertainment room golf green.
Despite the advances in artificial grass, some golfers remain unconvinced that such a surface could provide the same experience as a real green. Those individuals are encouraged to learn about the indoor golf products created by SYNLawn with help from some of the sport's biggest names. Wanting to provide golfers with the practice they need during the winter months, SYNLawn partnered with Dave Pelz—world-renowned author, teacher, and golf researcher. With his assistance, SYNLawn has been able to create a line of indoor golf products that allow athletes to practice pitching, chipping, putting, and even hitting out of a bunker.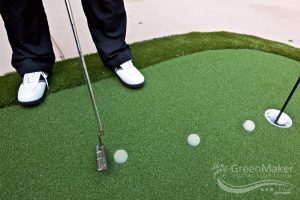 The putting green systems available from SYNLawn of Northeast Ohio give golfers throughout the Canton and Cleveland areas the opportunity to work on their short game without ever having to step foot outside. Though SYNLawn's golf turf is made from manufactured materials, it offers a clean, even playing field that mimics the appearance and texture of professional courses. Since Ohio weather is notoriously unpredictable, having a custom putting green installed inside one's home makes it so that athletes never have to go months without practice. Instead, they are able to improve their technique and make an easy transition to the course when spring finally arrives. Plus, residents throughout the greater Akron area can have golf turf installed virtually anywhere they want, allowing for basement, garage, and entertainment room golf greens that provide the ideal practice space as well as an interesting conversation piece.
Those who are interested in learning more about the golf turf from SYNLawn of Northeast Ohio can find additional information about their indoor golf products at www.synlawnneohio.com. Residents throughout the Canton, Ohio; Akron, Ohio; and Cleveland, Ohio areas will be pleased to discover that SYNLawn's artificial grass can not only be used to construct a custom putting green, but a variety of other surfaces for residential and commercial applications. Those who are thinking about obtaining a putting green system for a loved one this holiday season are encouraged to contact SYNLawn of Northeast Ohio directly at 330.492.8733. The experts at this local business are always happy to discuss some of the basement, garage, and entertainment room golf greens they've installed for customers in the past.
SYNLawn of Northeast Ohio
4855 Hills & Dales Rd NW
Canton, Ohio 44708
330.639.1564
www.synlawnneohio.com