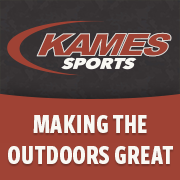 By Fiona Vernon
While December teased everyone from Portage Lakes, Ohio, to Cambridge, Ohio, with fall-like temperatures, Mother Nature has restored natural order with a deluge of snow that will most likely cover the ground until spring. Those who love winter outdoor sports are happy as they dust off their ice fishing gear and head out to their favorite spot. Whether someone is just becoming interested in winter fishing or an experienced angler is looking to restock their tackle box and revamp their inventory, Kames Sports offers a wide selection of ice fishing equipment — including ice fishing rod and reel combos, cold water fishing line, ice fishing lures, and electronic fish finders. Anyone from Atwood Lake, Ohio, to Youngstown, Ohio, looking for the highest quality bass, crappie, walleye, and yellow perch fishing equipment can visit the experts at this local sporting goods store for sound advice based on 56 years' experience.
With the outside temperatures dipping below 32 degrees on a consistent basis, it's time to bust out the ice fishing gear for a relaxing day with friends. The Division of Wildlife offers a general guideline for safe ice thickness during winter fishing at about four inches being able to support one angler venturing out with their ice fishing equipment and at least seven inches for groups. Ice fishing involves an inherent danger with every body of water offering different landscapes, so caution must always be used. The earlier in the season, the more danger because the ice isn't as thick as it will be in a month. Portage Lakes is a top ice fishing destination that produces a good number of crappie, bluegill, and yellow perch in addition to providing the largest selection of shoreline access. Those who have caught walleye in Mosquito Lake near Youngstown have reported an average of fish that measure 13 to 21 inches, as well as crappie and bluegill in high numbers. For a fun day out, pay attention to when they might be hosting an ice fishing tournament targeting walleye and panfish.
Atwood Lake also offers ice fishing tournaments, as well as points and drop-offs, found with some exploration, that provide some of the best places to fish. AEP ReCreation Land near Cambridge is composed of 58,000 acres of land set up for outdoor enthusiasts to enjoy hiking, biking, hunting, camping, horseback riding, and 350 ponds and lakes stocked for a wide variety of winter fishing. Everyone looking for yellow perch, walleye, crappie, bluegill, and bass fishing equipment will love the superior service and products at Kames Sports. This local sporting goods store carries Sufix Ice Magic Cold Water Fishing Line that contains additives to deter water absorption that causes ice build-up, as well as ice fishing lures for optimal attraction. They stock a variety of sizes of ice fishing rod and reel combos that are suitable from novice to advanced ice angler, in addition to their selection of electronic fishfinders that can account for water depth, temperature and turbulence, and even watch lure presentations.
Ice fishing can be one of the most satisfying ways to enjoy nature while building the bonds of friendship. Whether an angler knows Atwood Lake in Ohio is one of the best places to find crappie or another loves the amount of walleye they find in Mosquito Lake near Youngstown, Ohio, Kames Sports stocks a vast array of ice fishing equipment. This local sporting goods store's winter fishing gear includes ice fishing rod and reel combos, lures, electronic fishfinders, and cold water fishing line for success in catching everything from bass to yellow perch. Everyone from Portage Lakes, Ohio, to Cambridge, Ohio, can find all that they need for an amazing day on the ice at Kames Sports!
Kames Sports
8516 Cleveland Ave NW
North Canton, Ohio 44720
Ph: 330.499.4558
www.kamessports.com
Facebook Page