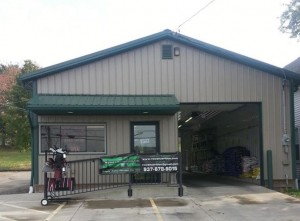 That time is upon us – raising cattle in the brutal winter weather of Ohio. As many in Tuscarawas County, Ohio and Holmes County, Ohio know, this can be difficult, especially if you aren't feeding your cattle quality feed. Whether you're a cattle farmer from Wayne County, Ohio, or a 4H club member gearing up to raise cattle for show, it's important to provide your cattle with the best nutrition possible. One line of nutritious feed that is perfect for raising cattle is Rowe Nutrition, a quality line of feed that you can find at Windy Hill Feeds, LLC in Dover, Ohio. Not only do they recommend this outstanding product line for all cattle owners, they have a variety of formulas perfect for all ages of cattle. Featuring Cates Creep 50/50 for nursing calves and Cates Jackpot Show Feed for Cattle, you'll be sure to find the perfect Rowe Nutrition product for all of your cattle raising needs.
It just so happens that December is the designated cattle weigh-in time for the Tuscarawas County Fair, a time where many 4H members will be buying cattle to raise for the September 2014 Fair. This is the perfect time to visit Windy Hill Feeds, LLC in order to buy Cates Creep 50/50, a highly recommended Rowe Nutrition product specially designed for use on calves that are still nursing. This feed is intended for maximum gain in weight and body volume, a great asset to your young cattle feeding regimen. What is ideal about Cates Creep 50/50 is the fact that it is a fixed formula comprised of all US grown grains, quite unlike other lower quality feeds that are made with least-cost generated mixes. Ingredients that you'll find in this quality formula include cracked corn, crimped oats, cane molasses, salt, and more.
The great thing about Rowe Nutrition is the fact that its formula ensures that your young, growing cattle get many of the vital nutrients that they need, like protein, fat, fiber, even calcium, potassium, and vitamin A. That's all any Holmes County cattle farmer or Wayne County 4H member could hope for. And of course, good nutrition is needed after cattle progress from calves to full grown cattle, so what better to feed them than Cates Jackpot Show Feed for Cattle, another quality product from Rowe Nutrition. After weaning, calves may go directly from Cates Creep 50/50 to Cates Jackpot Show Feed for Cattle. This feed is of the same quality as the formula for calves, comprised of 11.5% protein to ensure the same maximum gain in weight and body volume. This is also available at Windy Hill Feeds, LLC, as well as Cates Jackpot .49 DX, a medicated feed for the prevention of coccidiosis in ruminating and non-ruminating calves, caused by Eimeria bovis and Eimeria zuernii. Not only can you protect your cattle from calf to adult, you can give them the best quality feeds from Rowe Nutrition, all available Windy Hill Feeds, LLC in Dover, Ohio.
Great nutrition is all anyone wants for their cattle. Why not strive for more? Make champions out of all of your cattle with Rowe Nutrition. Whether you're a 4H member raising steer for an upcoming weigh-in, or a cattle farmer trying to raise the best quality cattle that you can, Cates Creep 50/50 and Cates Jackpot Show Feed for Cattle are two terrific products  from Rowe Nutrition that can help you do that. Windy Hill Feeds, LLC, makes it easy for anyone in Tuscarawas County, Ohio; Holmes County, Ohio; and Wayne County, Ohio to get the quality feeds they need. For more information on these quality products, you can call 330.343.3717. You can also check out Windy Hill Feeds, LLC out on Facebook!
Windy Hill Feeds, LLC
5439 N Wooster Ave Ext
Dover, Ohio 44622
330.343.3717
https://www.facebook.com/windyhillfeedsllc