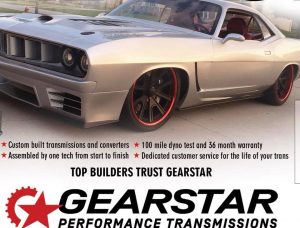 By Fiona Vernon
Spring is the time of year when all car enthusiasts get antsy and want to slowly roll the cover off their baby, polish her up, slide behind the wheel, and feel her come to life as they turn the key. Perhaps a motorhead in Tulsa, Oklahoma, wants an AODE behind their 90s small block, or another in Dallas, Texas, wants one in their '30 Deuce Coupe with a 302 V-8. Gearstar Performance Transmissions has the decades of experience and passion behind what they do. Not only do they excel at custom-built Ford performance transmissions that match the rear gear ratio, horsepower, and torque output of the engine for which it will serve, but this hot rod transmission company also meets the individual requirements of each requested GM and Mopar performance transmission. Even the most discerning of customers from Kissimmee, Florida, to Los Angeles, California, looking for high-performance automatic transmissions that support their individualized needs can rely on Gearstar Performance Transmissions to meet their exact specifications.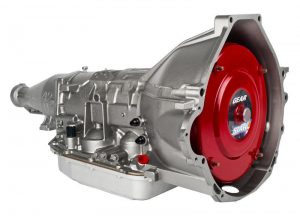 The Ford AOD was an incredibly sturdy and reliable automatic transmission geared towards both efficiency and performance. Not much set it apart from previous Ford transmissions, like the FMX; however, it did boast an overdrive unit and a brand-new aluminum case, significantly trimming its weight. The AOD's successors, the 4R7XX and the AODE, are solid transmissions that require electronically-controlled parts and circuitry, creating a completely different animal than the mechanically-modulated AOD. Upgrading an AOD to an AODE meant using its case and gearset but replacing almost everything else. The expert technicians at Gearstar Performance Transmissions can custom build this Ford automatic overdrive transmission for anyone from Los Angeles to Kissimmee. The AOD was never intended for aggressive driving and can start to slip if pushed too hard, so a high-performance automatic Ford transmission, like the AODE released in 1991, is exactly what the doctor ordered. It is essentially an upgraded AOD ready for the next level of performance, which can be attained by Gearstar Performance Transmissions. The best part is that this all-out race transmission offers the convenience of an electronically activated overdrive for full-on street use.
The AODE's pressure is controlled internally, doesn't come from a TV cable, and holds 200 more horses in factory trim. It possesses a different main case, valve body, a locking torque converter, front pump assembly, input shaft, and other vital components. Its more durable valve body is constructed of aluminum instead of steel for decreased weight and improved sealing. To improve shift quality, Ford also eliminated the split-torque function in third and fourth gears, creating a more cohesive engine and driveline package. Its throttle tip-in while in overdrive disengages the converter clutch, enabling the torque multiplication and providing improved acceleration without having to switch from one input shift to another. The AODE essentially gives the driver converter clutch engagement instead of over-drive lockup, as well as offering a front pump that's all about extreme volume.
Gearstar Performance Transmissions assigns one of its five expert technicians to each project for which they are commissioned, whether the owner of a '94 Ford Mustang GT in Dallas is replacing their trans or Someone in Tulsa has a 5.8L '91 Ford pushrod V-8 that is screaming for an upgrade. They have carefully selected their master builders for their high level of expertise and passion for cars. They are given all the time and resources necessary to custom build the perfect transmission. This hot rod transmission company boasts 25 years of unrivaled craftsmanship in customizing GM, Ford, and Mopar high-performance automatic transmissions. They realize that each transmission and client has different needs, and they are there to accommodate each and every one with their extensive knowledge and experience. Gearstar uses only the best US-made parts and ensures that each product leaves its facility in perfect operating condition by DYNO testing it the equivalent of 100 miles.
Any motorhead from Los Angeles, California, to Dallas, Texas, looking for the best in reliability and durability in a custom-built high-performance GM, Ford, or Mopar automatic transmission can trust the experts at Gearstar Performance Transmissions. This hot rod transmission company knows how their clients feel when they are looking for someone to trust with their baby, and they treat each one as if it were their own. Anyone from Kissimmee, Florida, to Tulsa, Oklahoma, needing an AODE, or any other transmission that can handle copious amounts of horsepower and torque, to fit the exact modifications of any vehicle can trust Gearstar Performance Transmissions.
Gearstar Performance Transmissions
132 N. Howard St.
Akron, Ohio 44308
330.434.5216
gearstar.com/
Facebook Page
aodeperformancetransmissions.com/