By Fiona Vernon
There are many intricacies that are involved in ensuring a business functions smoothly, from personnel supervision to product and service management. When it comes to maintaining a company's impeccable operation, individuals from Stark County, Ohio, to Mahoning County, Ohio, can trust Fallsway Equipment Company to alleviate any stress regarding the proper operation of their equipment. This local equipment company offers comprehensive lift truck services, including forklift rentals, parts and repair, and standard or customized OSHA training. When companies from Akron, Ohio, to Youngstown, Ohio, are designing and planning a new warehouse or renovating an existing one, Fallsway Equipment Company can provide the counseling and equipment necessary to guarantee flawless operation, such as loading dock equipment, racking systems, and floor scrubbers. Whether commercial truck bodies, like a dump body needs replaced or auto recovery equipment is being upgraded, businesses can choose from the vast array of truck equipment available from this local equipment company. Not many people are considering their role in winter weather yet, but it's the perfect time to inspect the condition of one's snow removal equipment, such as plows and salt spreaders, to determine if upgrades are necessary before the first snow falls. Regardless of the type of equipment and guidance necessary to keep one's business running, Fallsway Equipment Company is one simple phone call away!
One of the reasons why Fallsway Equipment Company keeps over 50 technicians with fully equipped service vans on the road is so that they can meet every customer's demands with impressive response times. Their lift truck service can manage all the requirements of anyone's fleet. Not only do they provide forklift rentals and operator training classes that meet OSHA standards, but they also offer forklift hauling, parts and repair, and delivery in Stark County, Mahoning County, and beyond. 90% of their service requests are handled from the road with a four-hour response time, so customers' sales do not have to suffer from more down time than necessary. Anyone can call this local equipment company for forklift service; however, they also offer preventative maintenance contracts that include a 60-point equipment checklist and total maintenance plans that cover all repairs for a fixed monthly amount. Fallsway Equipment Company's experts can customize a forklift training program to a client's needs and either bring the training to a requested location or perform it in their own facilities. They also offer factory-authorized technical training on Caterpillar and Mitsubishi equipment, as well as online forklift training that can be completed at one's own pace. They are well-rounded in offering any type of program that may fit a buyer's wishes.
Fallsway Equipment Company may be the leading service-oriented distributor of forklifts from Akron to Canton, but they also provide sales and service of commercial truck bodies, wreckers, auto recovery and snow removal equipment, along with a wide variety of other truck equipment. Their modern facilities allow them to design, install, and paint tow trucks to a customer's stipulation, in addition to their distribution of commercial truck bodies, including dump bodies and flat beds for corporate fleets and owner-operators. All their A60-coating weight steel service bodies are designed to survive everyday tough jobs with superior corrosion protection from an E-coat priming system and Powder Coat finish. With winter and snow arriving in the next few months, it's the perfect time to inspect one's snow removal equipment on its ability to handle what is demanded of it in the harsh winters of the area. If an upgrade is necessary, Fallsway Equipment Company offers a full line of snow and ice removal equipment, such as salt spreaders and snow plows. Heavy-duty trucks are not the only components necessary to keep a company productive. Any business that stocks and distributes inventory requires warehouse related equipment — from aerial platforms and boom lifts to loading dock equipment, floor scrubbers, and material handling systems. The experts at this local equipment company can assess a business' needs and create custom warehouse racking systems and a vast array of other warehouse equipment. From start to finish, they can help every step of the way.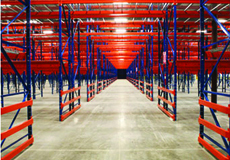 When it comes to managing a business from Stark County, Ohio, to Mahoning County, Ohio, the stressful parts of owning or renting equipment can be left to Fallsway Equipment Company. Not only do they sell superior forklifts in the industry, but they also offer rentals, parts, repair, and training. They have the best lift truck services with 50 technicians to ensure a short response time when a business needs to minimize damage from an equipment issue. They will service any forklift, but also extend offers of total maintenance and preventative packages for long term coverage. A business building a new warehouse in Akron, Ohio; Youngstown, Ohio; or beyond need only rely on this local equipment company for essential warehouse equipment, from custom racking systems to loading dock equipment. They distribute a vast array of truck equipment, such as snow removal equipment and commercial truck bodies that are second to none with their heavy-duty steel construction and powder finish for impressive resistance to corrosion. Fallsway Equipment Company is the only place to call for all equipment products and services!
Fallsway Equipment Company
https://www.fallsway.com/
Akron Headquarters
1277 DeValera Ave
Akron, Ohio 44310
855.662.4379
Youngstown Branch
2773 Salt Springs Rd
Youngstown, Ohio 44509
855.662.4379