By Gemma Chriss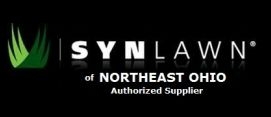 For boarding facilities, veterinary clinics, and groomers, it's important to have a pet-friendly flooring surface in place. Not only does it minimize damage caused by accidents, but it helps to lessen the anxiety animals often display when they're away from home. Unfortunately, most urine/scratch-resistant flooring products on the market leave a lot to be desired. Though tile and concrete allow for easy cleanup, these surfaces are slippery and can be hard on little paws. Plus, they're unsuitable for use in outdoor applications. One alternative that many businesses have started looking into is pet turf. Since artificial grass can be installed virtually anywhere, such products can be used in training spaces, kennel enclosures, examination rooms, and more. As the region's leading distributor of synthetic grass products, SYNLawn of Northeast Ohio is frequently called upon by establishments in Westlake, Ohio; Avon Lake, Ohio; and the greater Cleveland, Ohio area that want to provide their four-legged visitors with a safer, more comfortable flooring surface.
There are countless benefits to installing artificial grass in one's facility, especially those that cater to animals. For starters, pet turf mimics the look and feel of natural grass, so animals are more comfortable when visiting an unfamiliar place. Unlike hard flooring, artificial grass from SYNLawn of Northeast Ohio allows animals to run, jump, and play without the risk of falling down due to a slippery surface.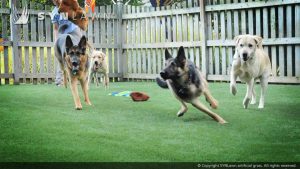 Establishments throughout the Westlake, Avon Lake, and Cleveland areas that have pet turf installed in or around their buildings can also attest to the fact that SYNLawn of Northeast Ohio's product line is a cleaner, safer alternative to natural grass. Many kennels and training facilities conduct business outside when the weather is agreeable. Unfortunately, this means that animals are more susceptible to muddy paws and insect bites. Since SYNLawn's line of pet-friendly flooring surfaces is made of manufactured materials, dirt isn't an issue. Plus, artificial grass isn't an environment that pests can thrive in, so the chances of animals being infected by ticks or fleas is greatly reduced.
Those in need of a urine/scratch-resistant flooring surface will also find that pet turf is a wise choice. The organic zeolite crystals found in SYNLawn's pet-friendly flooring surface help to naturally neutralize odors. In fact, these crystals can absorb and eliminate up to 80% of the odor caused by ammonia in pet waste. The individual fibers are also tough enough to stand up to chewing, scratching, digging, and pulling. Those that have hundreds of four-legged visitors can even request recommendations for synthetic turf products that require less maintenance.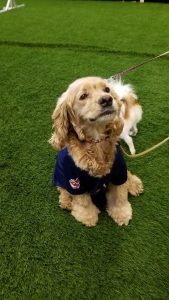 Additional information about the artificial grass products from SYNLawn of Northeast Ohio can be found on their website at www.synlawnneohio.com. This local business also has photos of the pet-friendly flooring surfaces they've installed in the past on their Facebook page. Those with questions about pet turf are encouraged to contact SYNLawn of Northeast Ohio directly at 330.492.8733. Their team is happy to recommend urine/scratch-resistant flooring solutions for establishments throughout Westlake, Ohio; Cleveland, Ohio; Avon Lake, Ohio; and beyond.
SYNLawn of Northeast Ohio
4855 Hills & Dales Rd NW
Canton, Ohio 44708
330.639.1564
www.synlawnneohio.com