By Fiona Vernon
Many New Years' resolutions have gone by the wayside, but some goals don't just disappear when they are potentially life changing. Individuals from North, Canton, Ohio, to Cuyahoga Falls, Ohio, who feel the desire to get their lives together and start a new career will love the options they are given with the program available at Akron Barber College. When a prospective student is looking for the best careers for self-employment, they will find that this local trade school is thorough in teaching them how to become a certified barber. After being out in the field, anyone can advance into the dream of being their own boss and choosing their own hours if they branch out on their own. The training doesn't include just the old-fashioned barbershop fare, like shaving facial hair, but they will also teach you how to style, cut, color, relax, and perm hair. Worried about how to run a business? Akron Barber College also focuses on barbershop ethics, management, sanitation, sterilization, and more. People from Cleveland, Ohio, to Fairlawn, Ohio, can begin their new path today with one phone call to 330.644.9114!
The first step toward starting a new career and grabbing ahold of the future ahead is the education. A traditional brick and mortar college may be the way for some people to enter the work force of their choice and earn the money, but many will benefit more from an institution that gets straight to the heart of the business. Akron Barber College has been providing extensive training for over 65 years to residents from Fairlawn to North Canton and beyond. Local trade schools are also the perfect way to go for those who would like to start a new career. The state of Ohio requires barber training to involve 1,800 clock hours with strict adherence to conduct and attendance. The first step is theoretical study in the classroom with basic principles and history. The curriculum then moves on to scientific barbering that involves the purposes behind the practices. The last part is ensuring that students embarking on their new career path are equipped to handle the public by allowing them to practice in the clinic. Customers make appointments for the services offered at discount prices so that students get the technical and customer service practice they need after they have learned how to shave facial hair, as well as cut, perm, relax, color, and style men's and women's hair.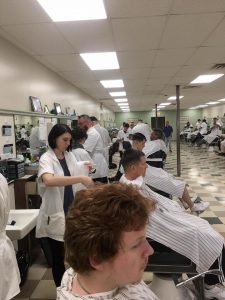 Individuals from Cuyahoga Falls to Cleveland know that people generally cannot just stroll into a new path. It takes learning the operations of the chosen industry, a good business plan, financing for equipment and location, bookkeeping knowledge, and the best marketing to attract customers. While much of it is learned on the job, Akron Barber College is there to assist their students with direction in barbershop management, so they are prepared and know what to expect. They are also proud to help their graduates locate employment. They don't guarantee the securing of a job position but have a high placement record for those who choose to accept that assistance. People opening their own location can create the atmosphere of an old-fashioned barbershop or they can choose to modernize the business, but one thing is clear … they can choose their own hours and be their own boss. With barbering being one of the best careers for self-employment since hair will always grow and people will always want it nicely groomed, learning how to become a certified barber is easy with one call to Akron Barber College at 330.644.9114.
Starting a new career or jumping into a chosen field can be intimidating. After determining that a local trade school can offer one of the best careers for self-employment, the first step is learning how to become a certified barber. Akron Barber College equips their students with how to color, perm, relax, cut, and style hair; as well as teaching them old-fashioned barbershop techniques, like the theory behind massage, stropping and shaving facial hair. Anyone from Cleveland, Ohio, to North Canton, Ohio, who wants to choose their own hours and be their own boss will also learn ways to make that happen by being educated on barbershop management. Want the best barber training from Cuyahoga Falls, Ohio, to Fairlawn, Ohio? Trust the experience behind Akron Barber College!
Akron Barber College
2828 S. Arlington Rd.
Akron, Ohio, 44312
330.644.9114
Akronbarbercollege.com
Facebook Page