By Fiona Vernon
One of the biggest fascinations that children have is with trains. They are majestic sights as car after car glides past, seemingly coming out of nowhere and disappearing down some mysterious path. As we grow older, the mystery subsides as we learn the significance that railroads have had on the building of our nation by the delivering of products across industries. What is each type of freight car's purpose? Some are obvious in their names — autoracks, refrigerated boxcars, and coil cars — but what about centerbeams, flatcars, covered and open-top hoppers, tank cars, well cars, and intermodal equipment. Each of these also have their own nicknames in the industry, making it all the more interesting for lay people. Businesses from the East Coast to West Coast can use freight cars to ship just about anything by rail to keep the economy flowing smoothly.
While many people just go to the store and grab their products off the shelf, there was an extensive process to make it available to them, from production to transportation. Railcars deliver a plethora of products for every segment of every industry that exists from the East to the West Coast — including seeds for farmers to vehicle carriers. Knowing what function each type of freight car performs can help everyone appreciate their significance in the maintenance of the world around them. Refrigerated boxcars, or reefers, serve an important need as these boxcars are temperature-controlled, are completely enclosed, and carry perishable merchandise that includes fresh fruits and vegetables, frozen products, beverages, meat, seafood, and cheese. Tank cars are designed to hold compressed or liquid commodities, such as water, diesel fuel, chemicals, and molasses. They are shaped cylindrically and hold between 6,500 and 31,000 gallons or more.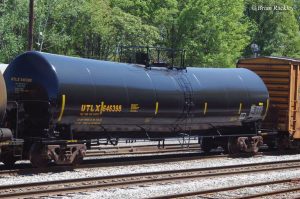 Flatcars either feature bulkheads at each to prevent the product it's carrying from shifting or they feature an open design. They are open, have different lengths and load capacities, and transport freight that will not be harmed by inclement weather. Centerbeams feature a partition, or center beam, that bolsters the center of gravity, allowing products to be fastened down to keep them intact. They are mainly used for bundled construction supplies, such as wallboard and various lumber products. Covered and open-top hoppers are similar in that they have sloped floors with doors that make unloading highly efficient, as well as an open-top for easy loading. The covered hoppers offer protection from the elements and carry free-flowing dry bulk merchandise — including cement, corn, sugar, soda ash, sand and other grain. The open-top hoppers carry loose product that won't be affected by inclement weather, such as petroleum coke, rock, coal, copper concentrate and other aggregate materials.
Since 1911, the A. Stucki Company out of Pennsylvania has led the development of railcar manufacturing. Their innovations have assisted in increasing the profits of operators across the world by helping them achieve longer intervals between regular maintenance. As the leading rail car parts manufacturer, they keep the delivery of products operating efficiently with their vast array of product solutions and repair regardless of the type of freight car a company uses. This can include temperature-controlled or refrigerated boxcars, or reefers, centerbeams, flatcars, tank cars, or open-top and covered hoppers. National and international businesses have trusted A. Stucki Company for generations of progress.
A Stucki Company
360 Wright Brothers Drive
Moon Township, Pennsylvania 15108
412.424.0560
http://stucki.com/