By Fiona Vernon
Transportation is an important part of a functioning society. It allows for efficient communication, trade, and exchanges that help a civilization thrive. The most commonly known form of transportation is the automobile, since individuals use it on a daily basis to get through their busy lives. Railroad is also a part of people's daily lives, but it exists in the background. Railcars deliver products to end users with a wide variety of types of freight cars, from autoracks, coil cars and gondolas to well cars and intermodal equipment. Companies rely on the railroad industry's energy efficiency and capability of handling large loads to run their businesses, along with a plethora of other benefits.  A. Stucki Company, based in Pennsylvania, has contributed to the success of the industry for over 100 years and is now comprised of 17 global locations and growing. They are focused on engineering, machining, reconditioning, and manufacturing of railcar parts, repair, and reconditioning. Their foundation rests on the quality of their products from the Atlantic to the Pacific Seaboard.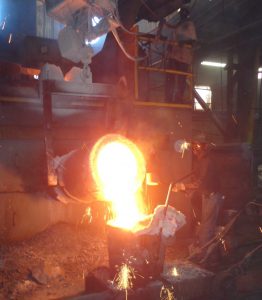 The types of freight cars used in the rail industry are based on the application for which they are commissioned. Autoracks carry a variety of finished vehicles, which include cars, trucks, and SUVs. They are designed solely for this purpose, made of metal and enclosed to protect each vehicle. They consist of multiple levels, or decks, to maximize shipping space and minimize damage when vehicles are being delivered to end users. Coil cars, considered a subtype of the gondola car, come in diverse sizes and load capacities so that they can carry a wide variety of products, such as coiled steel, steel plates, and high-grade ores. They can be open or enclosed, depending on the nature of the product being transported. Gondolas have low side walls and open tops designed to carry heavy bulk commodities, like scrap metal, logs, lumber, sand, and copper or iron ore. Intermodal equipment includes containers like boxcars without the wheels and the trailer of a semi-truck that holds the load. They can be transferred between ships, trains, and trucks without wasting manpower unloading or reloading its contents, which may include electronics, refrigerated products, and apparel. The well car is what carries the intermodal equipment. Also known as stack cars or well wagons, they are designed for the intermodal equipment to stack nicely inside.
There are specific benefits to using rail over road transport, although in many circumstances, the combination of both provide enormous value. Railways have consistent schedules that are unaffected by traffic or weather on the roads that are shared with the public. They are capable of hauling extremely large loads from Atlantic to Pacific Seaboards, with one double-stacked train holding about the same amount of cargo as 280 trucks. Companies who want to leave less negative impact on the environment will appreciate that a train burns less fuel per ton mile than trucks. It can lower greenhouse emissions over road transports by 75%. There is less cost involved, with typically better drop trailer programs and lower fuel costs, saving 10 to 40%. With railroads being an integral part of an intermodal strategy, A. Stucki Company based in Pennsylvania helps facilitate the thriving of all industries with their engineering, design, repair, reconditioning, and machining critical railcar parts and services.
There are many ways to use the rail industry and many benefits that will be found by combining it with trucking. A company uses intermodal equipment to transports pallets of lumber or an autorack to get the latest shipment of new vehicles to their station then a semi picks them up and delivers the product to the end user. Coil cars, gondolas, and well cars are all used for the long hauls to get them to the necessary transportation to deliver them into customers' hands. A. Stucki Company, a global company based out of Pennsylvania, offers contract manufacturing for railcar components, as well as repair, machining, and reconditioning. Companies from the Atlantic to the Pacific Seaboard keep every type of freight car running smoothly and economically.
A. Stucki Company
360 Wright Brothers Drive
Moon Township, Pennsylvania 15108
412.424.0560
http://stucki.com/