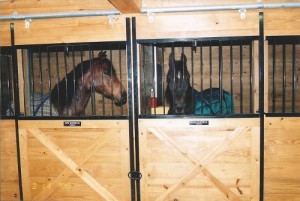 Have you been considering updating the stalls of your Brunswick, Ohio barn or stable this summer? Now that your horses are spending more time outside, you'll be able to spend more time updating their stables and your overall facility. When updating your Uhrichsville, Ohio or Wooster, Ohio facility, you'll want to make sure that the stables you keep your horses in are properly maintained. Through frequent usage, your stall doors can begin to wear down and become less secure. In situations like these, consider updating your stable doors with help from Des Eck Welding LLC. For years, Des Eck Welding LLC has been creating custom steel stall doors for barns and stable facilities across the state. They even provide powder coating services to give the new stall doors you have selected a more customized look that matches the interior of your Millersburg, Ohio facility.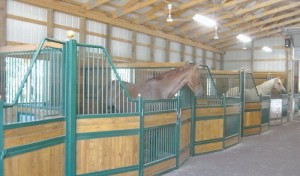 Although you have many choices in stable doors, nothing quite compares to the steel stall doors available from Des Eck Welding LLC near Wooster.  This is because stainless steel possesses a lot of great qualities that other materials do not. For example, stainless steel has a high corrosion resistance that wood materials and lesser metal materials do not.  This resistance makes stainless steel useful in a multitude of environments and even allows it to be fire resistant. Furthermore, stainless steel is non-porous, making it a more sanitary option as it is much easier to clean. Because this metal is so easy to maintain, many individuals find it to be an excellent option for their Uhrichsville area stables and barns. Would you like your stable doors to compliment the interior design of your facility? If so, know that Des Eck Welding LLC offers powder coating for their stainless steel products to help provide you with the customized look you desire.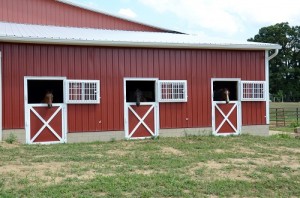 To further a customized look for your facility's new stall doors, Des Eck Welding LLC offers their stall doors in a variety of different styles. One popular style of stall door available from Des Eck Welding LLC is their mesh front stall doors. The mesh fronts on these stall doors are composed of 2" by ¼" rod grids of 304 grade welded stainless steel wire, creating a secure door for your horse's stable. By having a mesh front on these stall doors, you'll be able to better view your horse without having to enter the stall to fully check on them. The openness that these mesh stall doors provide also help keep air moving through your stable, keeping your Millersburg or Brunswick facility healthier.
If you're ready to update your Uhrichsville, Ohio or Brunswick, Ohio facility with new stall doors, contact Des Eck Welding LLC. Their knowledgeable and experienced craftsmen will be more than happy to speak with you in regards to your stable door needs to create the perfect products for you. After all, they offer powder coating services on all their steel stall doors to ensure you get the look, style, and design that best compliments your Millersburg, Ohio or Wooster, Ohio facility. If you'd like to learn more about these stall doors or you would like to place an order, call 330.698.7271 or visit their physical location today!
Des Eck Welding LLC
11400 E. Moreland RD
Apple Creek, OH 44606
330.698.7271