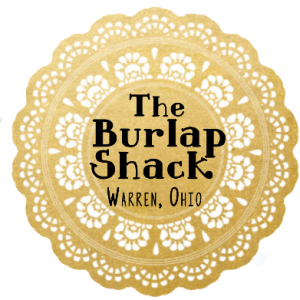 By Fiona Vernon
Many people peruse Pinterest in the hopes of coming up with exciting DIY gift ideas until they realize that they don't have the time or even the desire to follow through with it. Anyone from Youngstown, Ohio, to Cleveland, Ohio, can bring their Pinterest boards to life with one visit to The Burlap Shack in Warren, Ohio. Whether it's this local gift shop's retail location, their ebay Store, Facebook Page , or their website that one decides to pore over, they will discover a plethora of unique custom designs that are fantastic gifts for people who have everything. It is not uncommon for travelers in and around Akron, Ohio, who visit to buy gifts for others, but they eventually leave with something for themselves. Customers they love everything that they see in the vast array of upcycled and reclaimed wood products. This store, home of the original neck tie rose, not only offers a wide selection of handmade home décor, but they also design memory keepsakes in handmade fabric roses, primitive and farmhouse décor, provides fun in their frequently offered craft night, and are highly involved in the eBay retail revival program. Everyone can visit The Burlap Shack as they roll primitive, rustic, and chic all into one with their original designs to decorate anyone's home!
The Burlap Shack is the result of the passion of two energetic women who love what they do. It started with a fascination of wondering how to find purpose for all the neck ties the founder was seeing in her local thrift stores. Playing with a pencil and a tie one night, she created her first neck tie rose, an historic event and beginning of her new quest. She began to make memory keepsake roses for the widows in her church from their husband's neckties, which quickly turned into a full-time venture. She opened her storefront in Warren in 2014, growing from the creation of handmade fabric roses from her living room to offering a wide variety of unique custom designs and handmade primitive and farmhouse home décor with upcycled and reclaimed wood products. It's difficult to buy for some individuals; however, this local gift shop designs and creates gifts for people who have everything. These two women are in the business of people and enjoy creating one-of-a-kind pieces that their customers can share with their friends and loved ones.
The Burlap Shack is smack dab in the middle of Cleveland, Youngstown, and Akron, so they are an easy drive for anyone wanting to shop or plan a fundraising event or private party. Customers can also express their own creativity while joining others in making something fun in one of their craft classes, or craft nights. Their 43" upcycled wooden porch bunny class sold out twice, and each craft night offers amazing camaraderie, education, and entertainment. They also have private parties for children's birthdays, fundraising, or any other event that people choose to celebrate. This local gift shop not only offers unique custom handmade home décor designs at their location, but their eBay store is always open for those who love online shopping. In early 2018, eBay launched their Retail Revival Program in a partnership with Akron and Warren for 12 months. They actively invited The Burlap Shack to participate as a premier vendor — having since become a leader in educating those not technologically comfortable as they become involved in the eBay Retail Revival Program. Businesses chosen to participate in this innovative program are given one-on-one guidance and insight from trained eBay associates and are educated in the process of becoming a successful online shopping presence.
Whether The Burlap Shack is immersing themselves in the creativity of the eBay retail revival program, planning fun craft nights, or focusing on their original handmade fabric neck tie roses as memory keepsakes, this local gift shop offers a wide selection of gift and entertainment options for people who have everything. Anyone from Cleveland, Ohio, or right here in Warren, Ohio, will love the handmade primitive, farmhouse home décor that is designed using upcycled and reclaimed wood products. Individuals from Youngstown, Ohio, to Akron, Ohio, who have taken advantage of the talent and infectious enthusiasm of the ladies at The Burlap Shack can attest to the fact that they offer unique custom designs ideal for any occasion and personality.
The Burlap Shack
3323 Parkman Rd. Suite 2
Warren, Ohio 44481
234.223.2709
burlapshack.net/
Facebook Page
ebay Store
Akron Retail Revival