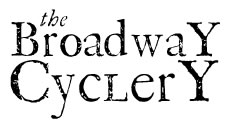 By Fiona Vernon
In today's world, many are looking for ways to be more cost effective in their travels as well as reduce their carbon footprint. One way in which they can do this is by investing in a bicycle. Although many individuals think of cycling as a form of recreation or exercise, it is actually a very convenient way for individuals to get from one location to another—especially in more urban areas like Cleveland or Akron. Best of all, there are many bikes now available that are designed specifically for those who prefer to use a bicycle on a daily basis.
At The Broadway Cyclery –located at 665 Broadway Ave. in Bedford, Ohio—customers can find a variety of different bikes to accommodate their day-to-day travels. Some of the bicycles they carry are Xtracycle cargo bikes. These large bikes are designed to offer cargo space that other bicycles typically do not offer. With one of these cargo bikes, individuals can perform daily tasks like running errands and can even use it to take the kids or dog to the park for some quality time outside. These cargo bikes can also be used on a college campus or as a work vehicle where books and other materials may need to be transported.
For those that do not need to have cargo space but still prefer to commute to work using a bicycle, The Broadway Cyclery offers an assortment of commuter bikes from Brooklyn Bicycle Company and many other manufacturers. These cost effective modes of transportation are ideal for those that want to avoid traffic jams that can occur in urban areas like Cleveland, Chagrin Falls, or Akron and create a more consistent commute time. However, not everyone enjoys leaving their bike outside where most bike racks are kept. The Broadway Cyclery understands this, and that is why they are happy to offer folding bikes by Brompton at their local bicycle shop in Bedford.
Folding bikes –like commuter bikes—are a great option for those that enjoying biking from one location to another but don't have a lot of space to keep it. The Brompton folding bikes available from The Broadway Cyclery are so compact when folded up that they can fit under a work desk. College students in the Cleveland or Akron area could also benefit from the use of a folding bike as they can be easily stored inside a dorm room or apartment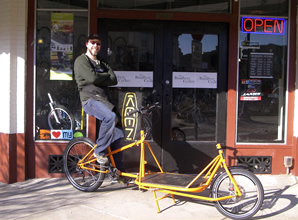 With so many bikes to choose from, it's not always easy for individuals to determine which model best accommodates their daily transportation needs throughout the year. At The Broadway Cyclery, their knowledgeable staff is dedicated to helping their customers find the ideal bicycle for them. They even have several bicycles available at their bicycle shop for individuals from Chagrin Falls and beyond to rent. By offering these rental bikes, many customers are able to try a specific type of bicycle out before they purchase it.
One of the latest bicycles that The Broadway Cyclery has gotten in for individuals to rent is their Bosch electric bicycle. This ebike is a cargo bike that is great for running errands, commuting to work, and for recreational activities. With the capacity to produce higher speeds than the typical bicycle, those that may have to commute a little farther than normal may find this a great option. For those that prefer a more traditional model bicycle, The Broadway Cyclery has an exceptional selection of other quality vehicles to choose from.
To learn more about The Broadway Cyclery, their products, or their services, visit www.thebroadwaycyclery.com. Otherwise, feel free to call 440.735.2453 to speak to one of their knowledgeable staff members today.
The Broadway Cyclery
665 Broadway Ave
Bedford, OH 44146
www.thebroadwaycyclery.com
440.735.2453