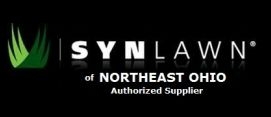 Fresh air and exercise are vital to a happy, healthy childhood, which is why parents encourage their little ones to play outside whenever possible. Unfortunately, there are a number of drawbacks to sending your kids out the door. Allergies can pose a major concern, as well as the stubborn grass stains that inevitably end up on your children's clothes. Plus, there's always a risk of injury when playing on concrete, wood chips, or even solid ground. Fortunately, there is an alternative to traditional outdoor playground flooring—artificial grass. SYNLawn of Northeast Ohio has a line of residential/commercial grass products that are ideal for such applications, giving parents and school officials a better option in terms of playground surfaces. Regardless of what issues you may have with allowing your children to play on your Canton, Ohio; Akron, Ohio; or Cleveland, Ohio property, chances are a synthetic lawn is the perfect solution.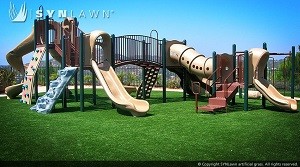 Due to the fact that there are a number of benefits to synthetic lawn installation, it should come as no surprise to learn that recreation center managers, school officials, homeowners, and daycare directors have started to replace their playground surfaces with artificial grass from SYNLawn of Northeast Ohio. It's especially great for parents who want to give their children a softer surface to play on without sacrificing the appearance of their lawn. The residential/commercial grass products from SYNLawn of Northeast Ohio are designed to closely resemble natural grass, so your lawn will continue to look lush and green all year round! However, unlike its natural counterpart, artificial grass allows for superior drainage, so your little ones can head outside immediately after the rain has stopped falling.
The playground surfaces from SYNLawn of Northeast Ohio beat out natural grass for several other reasons too. For instance, grass stains will become a thing of the past once you install a synthetic lawn on your Canton, Akron, or Cleveland property. And you won't have to worry about your children tracking mud into your recently cleaned kitchen either! Since SYNLawn's products are made from synthetic fibers, they can also eliminate your children's exposure to outdoor allergens. When springtime comes around again, you and your little ones will appreciate the fact that they don't have to deal with the itchy, watery eyes that can result from freshly cut grass.
Unlike other outdoor playground flooring options out there, SYNLawn of Northeast Ohio's line is built with safety in mind. When you contact this local dealer to replace your playground surface with one of their artificial grass products, they'll install a soft padding underneath. Not only will this padding reduce the risk of injury from falls, but it will stay in place even with high activity. For your peace of mind, SYNLawn's synthetic turf products have been ASTM tested and IPEMA certified as well.
Due to their strength and durability, the residential/commercial grass products from SYNLawn of Northeast Ohio can stand up to regular play, whether it's installed in your home's backyard or your school's courtyard. Even high-traffic areas like the slide's landing spot can be easily replaced without having to touch the rest of the yard. Needless to say, installing a synthetic lawn as the new playground surface on your Canton, Ohio; Akron, Ohio; or Cleveland, Ohio property is a wise investment. If you'd like to learn more about the artificial grass options available from SYNLawn of Northeast Ohio, visit their website at www.synlawnneohio.com. You can also give them a call at 330.492.8733 for additional information about their outdoor playground flooring.
If you'd like to receive 10% off your first artificial turf installation, click HERE to take a quick survey!
SYNLawn of Northeast Ohio
4855 Hills & Dales Rd NW
Canton, Ohio 44708
330.639.1564
www.synlawnneohio.com