By Fiona Vernon
Individuals don't have to ride a motorcycle, they choose to. Most who ride view it as something that isn't a necessity, but a pleasure to which they look forward. There are many reasons why people love to ride, but a significant motivation is the thrill that it brings to be in the middle of everything instead of just watching the scenery zip by behind car windows. It's very peaceful and serene, yet adventurous at the same time. How a rider feels as they climb onto their bike doesn't change over the years, but their physical capabilities may. All Solutions Trikes in Navarre, Ohio, has been serving riders from Massillon, Ohio, to Akron, Ohio, for the past decade by providing custom trike conversions, allowing them to continue their dream of being on the open road. If it's becoming increasingly difficult to safely hold the weight of the bike up, a custom Harley trike is the perfect solution. The skilled motorcycle trike builders at All Solutions Trikes near Canton, Ohio, can add safety and comfort to anyone's custom Honda and Kawasaki trikes with trike bumpers, independent suspension, and the manual reverse for Harleys. Riders may be taking advantage of the last stretch in the riding season, but they can make the call to or visit the experts at All Solutions Trikes to talk about a custom trike conversion over the winter.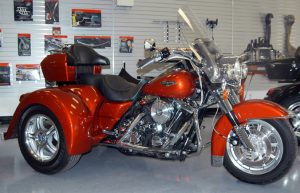 When someone gets on a motorcycle for the first time, they may have known the gas savings would be there, the ease of parking, and the wind in their hair, but they didn't realize the sense of camaraderie they would suddenly feel. It's like they joined a secret club that no one knows exists until they ride. Seasoned riders in and around Canton and Akron never want to give up that feeling, and with a custom Harley, Honda, and Kawasaki trike, they never have to. They can gain safety, stability, and balance with a custom trike conversion, by taking advantage of All Solutions Trikes' custom, polished stainless-steel bumpers with LED running and brakes lights will fit most two-wheelers and custom trikes. These motorcycle trike builders offer the manual reverse for Harley-Davidson five and six-speed transmissions so that people can have added confidence while they are maneuvering their bike. The manual reverse features a low gear ratio to ease the bike back, doesn't affect any of the forward gears, and won't bog down.
Perhaps an avid rider's wife began having hip issues; and consequently, she needed a hip replacement. They thought that their riding days had come to an end, but their custom Harley trike allows her the extra room and comfort that she physically requires. The internal swing arm in the custom trikes from All Solutions Trikes has revolutionized the market, resulting in a vibration-free ride with exceptional stability. When looking for superior rideability from Massillon to Navarre, a trike with independent suspension allows for better cornering and travel across various road conditions, as well as maximizing traction with its sway control. They also feature easy steer for better handling that kicks the front out about 7 ½ to eight degrees. With the added time the rider gets to spend with his wife after they talked to the expert motorcycle trike builders at All Solutions Trikes, they have been able to grow closer as they enjoy the outdoors together.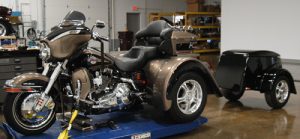 Whether individuals from Massillon, Ohio, started riding to reduce their impact on the environment, or another from Akron, Ohio, longed for the thrill and adventure it offers, All Solutions Trikes in Navarre, Ohio, can keep less physically able riders on the road with their custom trikes. Health reasons, like a knee operation, can hinder one's ability to hold one's two-wheeler up any longer, but trusting the expert motorcycle trike builders this winter with a custom trike conversion can keep any rider's hopes alive to stay on the open road in and around Canton, Ohio, next summer. All Solutions Trikes' goal is to increase their clients' comfort and stability, so they offer trikes with independent suspensions, trike bumpers with LED running and brake lights, and their manual reverse for Harleys that won't bog down. With a custom Harley, Honda, and Kawasaki trike, riding isn't just the transportation to the adventure, it is the adventure.
All Solutions Trikes
4530 Erie Ave SW
Navarre, Ohio 44662
330.791.7096
allsolutionstrikes.com/