If you've been looking for smoking supplies at head shops around your Fairview Park, Ohio or Old Brooklyn, Ohio home, you've most likely been disappointed with the limited selection and high price tags of such local establishments. But before you turn to the Internet and risk having to pay astronomical fees for shipping, why not stop by Twilight Boutique? Just a short distance from Avon Lake, Ohio, this nearby novelties store has a wide assortment of discounted smoking accessories available. With hookahs, flavored tobacco, glass hand pipes, incense sticks, and more, Twilight Boutique is sure to have the high-quality product you're searching for at a reasonable price. Plus, they recently started a customer rewards program so frequent shoppers can save on their purchases!
While Twilight Boutique has only been in business for a few years, they've earned a reputation for being the best head shop around the greater Avon Lake area. Having an extensive selection of smoking supplies, tie-dyed clothing, posters, and jewelry, this local novelties store has virtually everything you could need. Plus, opting to shop at Twilight Boutique versus an online retailer means that you can take advantage of their excellent customer service! The associates at Twilight Boutique are not only friendly, but very knowledgeable about the products they offer. If you have any questions, or you're looking for something specific, they would be happy to help!

In addition to having a great staff, Twilight Boutique also has some of the most reasonable prices around. Though their prices have always been low compared to other establishments around Fairview Park and Old Brooklyn, they recently lowered them in order to make their inventory even more affordable for customers. And as an added bonus, they frequently run great deals so their customers can not only get the discounted smoking accessories they originally came in for, but bonus products, too! For instance, Twilight Boutique is currently running a special on their glass hand pipes. When you take the trip over to their shop and purchase one of their high-quality glass hand pipes, you'll receive 5 Wild Berry incense sticks for free!
This local novelties store is also starting a customer rewards program in March that will be especially beneficial to repeat visitors. By joining the rewards program, you'll get a stamp for every $10 you spend on smoking supplies, clothing, jewelry, and other products. Once you reach $100 in sales, you'll then receive a $10 credit to use on anything this head shop has in stock. Just one of the many ways that Twilight Boutique helps their customers save money, it's no wonder they're so popular among those looking for discounted smoking accessories!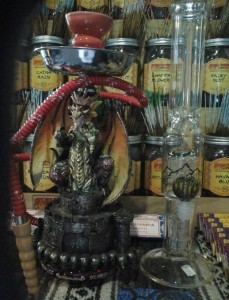 To find out more about this Avon Lake, Ohio area novelties store, visit their website at www.twlightboutique.ezlocal.com or check out their Facebook page. If you have any questions about their smoking supplies, including their glass hand pipe and incense stick deal, just give this head shop a call at 216.221.7777. But if you want to check out their selection of discounted smoking accessories in person and get some advice from their staff, take the trip from your Fairview Park, Ohio or Old Brooklyn, Ohio home to Twilight Boutique.
Twilight Boutique
15715 Madison Ave
Lakewood, Ohio 44107
Ph: 216.221.7777
www.twlightboutique.ezlocal.com