By Fiona Vernon
Camping is the perfect getaway for those who love nature. Outdoor enthusiasts feel an intimate connection with nature while on a camping trip, whether they are sitting in their camping chair near Alliance, Ohio, with a steaming cup of coffee in the morning enjoying the first rays of sunshine appearing over the horizon, or they are hiking trails near Massillon, Ohio, and breathing in the fresh air. The time of year an individual chooses to camp requires the same basic preparation, but also includes some weather appropriate hiking or camping gear. Kames Sports offers the basics of camping tents, sleeping bags, backpacks, and rechargeable flashlights; additionally, they carry hydration packs for constant access to water during a vigorous hike and Yeti tumblers or coolers for keeping foods and liquids at the desired temperature longer. Whether it's a summer or fall camping trip in and around North Canton, Ohio, and Akron, Ohio, one of the simplest pleasures is using pie irons to make cherry, pizza, or any variety of delicious hobo pies. Campers preparing for a late summer or fall adventure can take the short trip to Kames Sports to find the perfect camping and hiking gear.
Many people believe that summer is the perfect time for camping and hiking, so preparing to be comfortable in the hot, humid weather of Akron and Alliance is essential. It may be beneficial to choose a camping site and pitch the tent close to water so that it will provide some relief from the heat, as well as a place to wash the meal prep products and the grime off oneself. Essential camping gear for a successful and safe trip includes rechargeable flashlights and a well-stocked First Aid Kit with bug spray, bandages, bug bite soothing products, sunscreen, and anything else appropriate to the specific campers. In the heat of summer, it is more important to keep foods at the proper temperature to avoid food poisoning, and Kames Sports in North Canton carries a vast array of high-quality coolers and tumblers. Yeti coolers are constructed of three inches of polyurethane foam insulation, combined with a freezer-style sealing gasket that keeps foods at a proper temperature longer to prevent bacteria growth that can make one's family ill. They are virtually indestructible with their extra-thick walls, rotomolded construction, and marine-grade polyester rope handles to easily haul them back and forth from the campsite. Yeti tumblers are designed with double-wall vacuum insulation and a No Sweat™, leak-proof design to keep beverages piping-hot or ice-cold for twice as long as cups. Backpacks can be strategically packed to keep the basics organized; however, hydration packs are an important piece of hiking gear during the heat of a sunny summer day so an adequate supply of water is available to avoid heat exhaustion or stroke.
It is becoming more common in Massillon and beyond to camp when the fall weather arrives for many different reasons. It only takes a few adjustments in camping gear to prepare for the cooler weather, and Kames Sports carries all that is necessary. Sleeping in the confines of a camping tent during the summer may be brutal because of the heat, but is perfect when the temperatures start to cool. Sleeping bags are geared for comfort to allow a good night's sleep, and some features that lend to that goal are the materials that allow them to keep someone warm at low outdoor temperatures, a rectangular or barrel shape, a single or double size, and its level of water resistance. Sitting in camping chairs around a fire as the sun begins to set is a little more comfortable in the fall as well, and the cool weather makes preparing meals more fun, especially if the kids like to cook with the pie irons and make hot cocoa over the fire. To help make meals easier while camping, Kames Sports carries mess kits, camp stoves, burger presses, and more. A great reason for fall camping is that it offers a plethora of activities, including apple or pumpkin picking, Oktoberfests, harvest festivals, Halloween events, and fall craft shows. Compared to the heat of summer, hiking in the fall is a blissful experience. With the cooler temperatures and phenomenal artwork created by Mother Nature, a hiker may only require dressing in layers and having the backpack ready!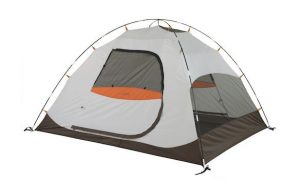 Being amongst the trees and in the open air can make anyone feel at one with nature and feel more serene than in everyday life. Whether it's summer or fall camping for which someone in Alliance, Ohio, or Akron, Ohio, is preparing, Kames Sports in North Canton, Ohio, carries all the necessary hiking and camping gear to have a fun and safe trip — from rechargeable flashlights and backpacks to camping chairs and tents. They can supply gear more appropriate to summer camping, like hydration packs and Yeti coolers, as well as products more specific to fall camping, such as pie irons and Yeti tumblers. Sleeping Bags are a basic need, but can be geared to cooler temperatures and keeping dry with the suitable choices. Outdoor enthusiasts in Massillon, Ohio, and beyond can take the short drive to Kames Sports for all the gear they will need for an enjoyable outing with their family or friends!
Kames Sports
8516 Cleveland Ave NW
North Canton, Ohio 44720
Ph: 330.499.4558
www.kamessports.com