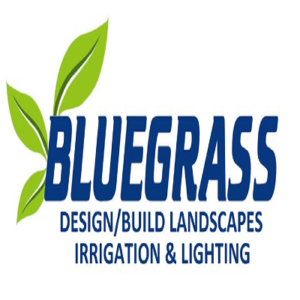 March has arrived. It's still cold, but the sunshine will gradually begin to warm the outdoor air soon. It's time to put a plan in motion on how to get your yard ready for listening to the bubbling fountain on a hot summer's eve or gathering with friends around the fire pit.
It's intimidating to look outside at your brown, dormant lawn and try to envision a creative outdoor living area with a cozy atmosphere. It's less stressful for you to call in the professionals at Bluegrass. We take care of everything when you don't know where to start or even what to do exactly. We take the time to sit with you and determine what you want done before designing and building an amazing space for you and your family to enjoy.
Do you want minor adjustments to your landscape or significant ones?
Here at Bluegrass, we love facing every challenge that you throw at us. Perhaps you really just want your current landscape cleaned up a bit. After snow and ice have done their damage to your beautiful rose bushes and rain has all but washed away your mulch, it's amazing how much of a difference a simple facelift can do.
With just the removal or addition of some small plants, you will feel like you have a whole new backyard. After we remove the winter debris and laying some fresh mulch, you won't ever want to go inside again. You'll look forward to going outside with your favorite cup of tea and book regardless of the weather.
Small adjustments can do wonders, but have you been looking forward to the day that you could call a custom landscaping company to create a design for you and revamp your entire yard? Here at Bluegrass, we want to bring your dreams to life. Having spent so much time at in your bubble in the past few years, you have discovered that there really is no place like home. You deserve for it to be your safe haven filled with wonder and beauty.
Some of the custom landscape designs that we have built include irrigation systems. Imagine all the time you can save instead of standing outside with a hose in your hand. If you don't find it relaxing, we have the solution that allows you to still have the most beautiful lawn in the neighborhood. All you have to do is set the timer on your sprinkler system and watch your lawn turn green and lush. It will help your flower beds thrive, too!
Maybe you don't even want to put that much effort into your yard. You feel that watering is a waste of money and resources. We can solve that problem, too. We install SYNLawn synthetic grass with a wide selection of features that will suit your needs.
We have playground surfaces that are non-abrasive and padded for fall attenuation up to 10 feet. We have pet-friendly artificial turf where dogs can't dig holes and urine won't turn the grass brown. We have other options as well that offer various benefits; however, they all offer a drain rate that allows kids and pets to immediately go outside even after a violent storm.
It's so low maintenance that you'll wonder how you spent any time with your family during the summer. Speaking of pet-friendly, we also install invisible dog fencing that will keep your fur baby contained and safe instead of you having to take it out on a leash every time.
How else can we complete your outdoor living space?
You love to entertain. There is no better feeling than to have friends walk through the door with their favorite beverage on a Friday night and go right out back to the firepit. You may want patio furniture surrounding a table that has fire in the middle for keeping warm on a cool spring evening, or you may want a firepit built of stone around which everyone can pull a chair. Here at Bluegrass, we can create the atmosphere for which you are looking.
Whether you want us to restore your landscape to its former glory or want an entirely new look, another addition that can make a huge difference is landscape lighting. It not only highlights your home's natural beauty but also adds security at night. How about lighting around your pond? We install water features of all sizes and shapes so that you can sit outside and find solace in the bubbling water.
There is virtually nothing we can't do to help make you smile when you gaze through the back window. If you leave the windows open, you can even hear the trickling water. From an artificial backyard with a pond, firepit, and padded turf to an irrigation system to keep your foliage fresh, here at Bluegrass, we love making your creative designs a reality so that you can fall back in love with where you live.
Bluegrass Incorporated
4855 Hills and Dales Rd NW
Canton, Ohio 44708
330.492.8733
bluegrassincorporated.com/
Facebook