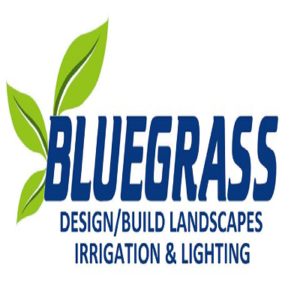 It's arguably the most wonderful time of the year! You can't drive anywhere without seeing some kind of holiday cheer, from streets lined with wreath-decorated lamp posts to blow up figures of snowmen and reindeer adorning lawns. Don't you want to be one of those houses that emits the hope and cheer of the holiday season? Here at Bluegrass, we can help make it so.
Many customers not only rely on us at Bluegrass in the warmer months for custom landscape design, but they also love the fact that we install residential and commercial decorative outdoor landscape lighting. You can be the envy of the neighborhood or simply feel happy inside when you pull into your driveway after a long day when you call us for all your holiday lighting needs.
Don't feel like dealing with Christmas lights yourself? We got you!
You aren't always in the holiday spirit. It's just a fact of life. This is especially true when you are cursing your past actions of not properly putting away last years' lights. We want to help you enjoy the season a little more by easing the stress of all that is on your to-do list. We arrive with your lights and install them however you choose. You may be wondering what happens in January when the streets go dark and it's to take back the control of your home. We take down your decorations and store it as well.
What all is involved in our commercial and residential holiday lighting services?
We coordinate with you to create a design that suits your lifestyle and budget.
We wrap LED lighting (we save as much energy as possible) around trees and shrubs and hang them from your roof.
We install any decorations that you chose.
We discreetly hide all the wires.
We remove all décor after the holiday season is over.
We store your décor.
Does Bluegrass decorate trees?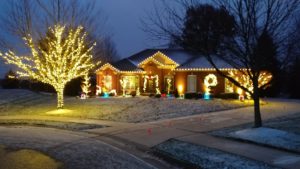 We can do anything you like (within reason)! Have you always imagined that the beautiful and majestic oak in your front yard would look magical decorated for Christmas? We have the equipment and expertise to help make that dream come true. Do you want colored lights on the bushes but white in the trees? We aim to please!
We continue to save you time and energy by coming back to take all the decorations down and store them for you until it's time for the same routine next year! You may want to keep it simple with just a few lights around the eaves of your home, or you may want to be the brightest on the block. Our team excels at satisfying your demands.
Did you read that list above? That's right … we even store all your holiday lights and decorations in a highly organized manner so that you really don't have to handle any of it.
You can peruse some of the jobs we have completed and see what our satisfied customers say about us on our Facebook page! Some of those who trust us for professional holiday lighting designs include Aultman Hospital, Mercy Hospital, a plethora of nursing homes and doctors' offices, and various other businesses throughout Canton and Northeast Ohio. That doesn't even include all the homes in the area that love what we do.
One of the most stressful times of year is the month before Christmas. There are so many expectations placed on you by family and yourself so having us help you with the entire process will lower your stress level. You don't want to have to deal with tangled lights or buy new ones to replace décor that is unsalvageable, and you don't have to when you rely on us at Bluegrass.
Bluegrass Incorporated
4855 Hills and Dales Rd NW
Canton, Ohio 44708
330.492.8733
bluegrassincorporated.com/
Facebook