By Fiona Vernon
Individuals from Ashland, Ohio, to Akron, Ohio, take pride in their homes and do all that they can to keep it looking beautiful. The exterior is the first thing someone sees as they pull into their driveway, and its appearance conveys one's attitude to family, friends, and neighbors. Maintaining its appearance and condition also assists in upholding house values. There are a variety of reasons that someone may be looking for a new home exterior — damage or natural deterioration has occurred to the siding or the simple desire for a new look that will also increase their house value. Most people only invest in this expense for the former reason, whether buying a home in Mansfield, Ohio, with siding that has been exposed to sunshine and weather for 30 years or upgrading a home in New Philadelphia, Ohio, that has incurred storm damage, causing a fear of water and air leakage. Trademark Exteriors is dedicated to doing business with integrity and getting to know each client so that they can familiarize themselves with their tastes. Regardless of whether someone has chosen vinyl, steel, or fiber cement siding, this affordable home remodeling contractor will provide unbeatable service while accommodating people's wishes.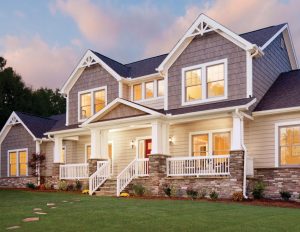 When looking for a new home exterior, there are many options available in today's market, including stone, brick, stucco, cedar shingles, siding, and much more. Deciding what to pick depends on one's location, finances, and taste, and Trademark Exteriors can help anyone weed through the enormous amount of information available on each product. One of the most common choices is siding, because it comes in a wide range of affordable compositions and colors. One of the first and most popular options a homeowner in Mansfield or Akron might consider is vinyl siding, which is offered in a vast array of colors and styles that will complement almost any home. Two of its biggest advantages are that it's low maintenance and highly economical. Vinyl siding is manufactured by molding each piece into a predefined shape, so it can mimic wooden siding or cedar shakes, giving an impressive amount of style options.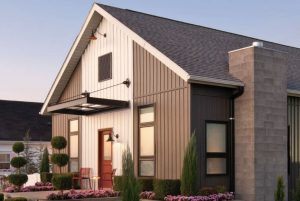 Trademark Exteriors also offers the best fiber cement siding, a combination of cement, sand, and natural wood fibers constructed to look exactly like wood; however, it is more durable than wood. It is usually less expensive than brick, but pricier than vinyl siding. Fiber cement siding typically outlasts its competitors by decades due to its resistance to high winds, fire, water, and termite damage. It is recommended in all climates, but is ideal for hot, humid regions. Homeowners from New Philadelphia to Ashland who are looking to increase their house value, as well as something that will withstand extreme temperatures and is tougher against dents and bumps from baseballs and hailstorms will find those qualities in steel siding. It is also incredibly low maintenance and comes in a wide variety of colors, while still being extremely economical. This affordable home remodeling contractors at Trademark Exteriors can answer any questions about what product would best fit one's home upgrade.
Resolving to start the search for a new home exterior from New Philadelphia, Ohio, to Mansfield, Ohio, is a big decision, but one that will increase a house's value for decades to come. Instead of turning to the internet and being overwhelmed with the immeasurable amount of information anyone can find, trust the years of experience from Trademark Exteriors. Whether someone is building a new home in Ashland, Ohio, or another individual in Akron, Ohio, needs to upgrade their deteriorated siding, this affordable home remodeling contractor can help guide anyone through the pros and cons of vinyl, fiber cement, and steel siding, steering them toward what selection would best suit their tastes and requirements!
Trademark Exteriors
5377 CR 626
Millersburg, Ohio 44654
Ph: 330.893.0000
www.trademarkexteriors.com