By Fiona Vernon
The kitchen is the meeting place in most homes. People tend to gather there more than any other room. A few key things to consider when planning and designing a kitchen remodel include its efficient functionality, aesthetics, circulation, and cost. The kitchen triangle rule, the choice of materials to be installed, its traffic flow, and the cost of materials are important in deciding how to proceed with each kitchen renovation from Auburn Township, Ohio, to Chagrin Falls, Ohio. From weighing the pros and cons between granite and laminate countertops to kitchen flooring and cabinet options, there are effective ways to lower kitchen remodeling costs. Every space is different, and homeowners from Novelty, Ohio, to Bainbridge, Ohio, can trust Lost Pond Construction to assess the space and make it their dream kitchen!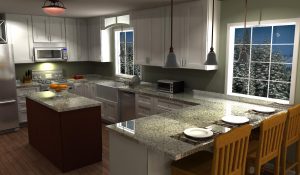 Lost Pond Construction knows that the functionality of any kitchen from Bainbridge to Auburn Township is just as important as the visual appearance. If a kitchen is not designed the right way, it could impact everyone's productivity who uses it, as well as discourage people from wanting to spend time in it. The kitchen triangle is an important rule when designing a kitchen. The rule is used to create an efficient work space with clear access to the main elements of a kitchen, drawing an invisible triangle to the sink, refrigerator, and range/cooktop. The rule states that each leg of the triangle is between 4-9' apart with a combined sum of about 13'. Other cabinets or obstacles should not intersect any leg of the triangle by more than 12". Creating the triangle is a good starting point to all kitchen design, as well as making sure there is adequate counterspace at each of the key elements in the design.
Before the kitchen is designed, this local kitchen remodeler will sit with the owner and contemplate how they will be working in the kitchen. Think about where the storage of the containers, kitchen utensils, baking items, pots, pans, and dishes will be, since the things that are used every day should be easily accessible and close to where they will be used. Think about how to store items and appliances to keep the counters clutter free. Large deep drawers are a good way to store things like pots and storage containers. Kitchen cabinets now offer tilt-outs and roll-outs to make the deep cabinet spaces more accessible. Cabinets also offer ways to easily hide everyday items like trash cans, spices, and even appliance garages have changed to be less obvious.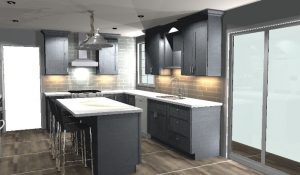 When considering the aesthetics of one's intended kitchen decor and picking out materials, items that complement instead of compete against each other are the best choices. Choose one main item, whether it's a kitchen backsplash, flooring, or countertop, and pull colors from that central option. Balance light colors with dark colors to provide contrast, while recognizing the importance of balancing the visual weight of the room. This can be achieved with furniture and kitchen cabinetry. If one side of the kitchen feels weighted down with cabinets, add something else — like a baker's rack or bookshelf – on the other side to pull one's gaze around the room. Consider taller cabinets that extend all the way to the ceiling to reduce wasted space and prevent the need to dust. Add interest to the kitchen by varying the heights of the vertical items in the room. For instance, if the cabinets extend to the ceiling, then shelving or another piece of furniture that stops 2-3' from the ceiling can be added.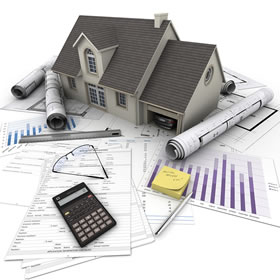 The circulation of any room is key when planning a kitchen remodel but ensuring there is adequate space for kitchen traffic flow will help people to function in it efficiently. The designers at Lost Pond Construction suggest taking into consideration how much space exists when the refrigerator door or oven is open. Is there enough space to open it while standing in front of it? Is someone able to walk by it without having to close it? Also, be careful to not over crowd the kitchen. If you are thinking about having an island make sure you have at least 110" from cabinet, to the other cabinet across the room. If there isn't much space, maybe a peninsula or a narrow roll away island would work better in that home. Individuals from Novelty to Chagrin Falls eat, cook, entertain, and do school or work in their kitchens. To make it more inviting, keep countertops clean and clear of clutter. A cluttered kitchen causes uneasiness and a tense atmosphere to most people, thus affecting their desire to be in there.
Considering the cost of products today, most people feel that their dream kitchens are out of their realistic price range. Candidly speaking, the kitchen is the most expensive room in the house to renovate, so a helpful tip to figure out how much money can be spent on a kitchen renovation is to calculate 10-15% of the house's worth. This tip does not take into account the size of the space and the finishes that are chosen. If high end materials are chosen, more can be expected.  To stay on budget, concentrate on what's most important and work with that. There are some ideas that can help to lower kitchen remodeling costs when designing it:
Consider refacing or painting cabinets if they are in good shape. Additionally, old cabinets will look new just by changing the hardware.
Everyone wants granite countertops these days; however, laminate is a less expensive alternative. Laminate countertops have come a long way with many different color choices, including some that mimic natural stones. It is also non-porous with no long-term care maintenance.
Spend some time looking into kitchen flooring options. There are many choices to consider — tile, hardwood, engineered flooring, vinyl, and more. Once one is chosen, research can help determine if it is easily cleaned, if it is chip or scratch resilient, and if it is comfortable to stand on for long periods of time.
A fresh coat of paint goes a long way and can dramatically change the look of any space.
A backsplash can be a large part of remodeling costs. Make sure it's easily cleanable. Anything with rough textures will become a catch-all for grease and dust. Although it may look good when first installed, it will be more work to maintain over the long term.
Lost Pond Construction, with their customers from Novelty, Ohio, to Bainbridge, Ohio, considers several details when planning a kitchen remodel. There are so many materials out there that research and reading the reviews of others is necessary. The homeowner must absolutely love the materials that are chosen, because they will be there for a long time — from laminate and granite countertops to kitchen cabinet and flooring options. There are factors to consider during the designing of a kitchen that include functionality, traffic flow, and following the triangle rule, as well as the best ways to lower one's kitchen remodeling costs. When the local kitchen remodeler helps plan it all out, the finished kitchen renovation will be a creation anyone from Auburn Township, Ohio, to Chagrin Falls, Ohio, will certainly be proud of!
Lost Pond Construction
13176 GAR Highway
Chardon, Ohio 44024
440.286.8891
www.lostpondconstruction.com/
Facebook Page