School will be out for the summer soon, but that doesn't mean your little one has to stop learning! If you're looking to keep your little one in the Winnebago County, Illinois area active this summer, there's no better place to go than Gymnastics Academy of Rockford (GAR)! Located in Rockford, Illinois, this top rated gymnastics facility offers a variety of summer gymnastics camps that will keep your child active and having fun this summer! At GAR's summer camps, your child can enjoy fun gymnastics classes, tennis, swimming, and more! If you live closer to the Roscoe, Illinois area, then visit GAR North! Regardless of the location you choose to take your child this summer, you can rest assured that they'll have a great time at their summer adventure camp! With exciting field trips, camp games, and meeting new friends, your child may never want to leave!
Our children are bundles of energy, but being active is what kids love to be! Help your little one be able to express themselves through fun social activities this summer with the help of Gymnastics Academy of Rockford in Winnebago County.GAR has created unique opportunities for children to develop their abilities while teaching them life skills that will enhance self-confidence. At GAR's School's Out Camps, friendships, fun, and learning are combined to create lasting memories of creative summer activities! There are a variety of summer adventure camps to choose from:
Adventure Campers— Children stay at GAR or GAR North the entire camp time. For boys and girls ages 4 and older. Must be potty trained.
Campers That Go On Excursions— Excursions are limited to 50 Campers on a first-come basis. They will experience the most amazing and exciting field trips ever! Cost for each excursion is $79, for boys and girls ages 7 and older.
Adventure Camp – During Adventure Camp, children will remain at GAR or GAR North – Monday through Friday—and will participate in a variety of activities including: swimming lessons, tennis, gymnastics lessons, karate lessons, hip hop lessons, tumbling, trampoline games, inflatables, GAR's Club XRKade, Backyard Adventures, putt-putt golf, crafts, pizza/ice cream parties, and more!
Through GAR 2013 Summer Adventure Camps, your child can have the opportunity to meet new people and continue learning new things throughout the summer! If your child enjoys the idea of fun gymnastics classes and exciting field trips, then they'll love Gymnastics Academy of Rockford's summer gymnastics camps, also available in Roscoe!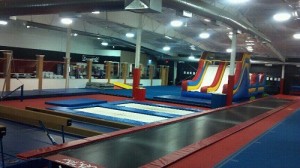 When there are so many summer camp options available for your child, which do you choose? For a fun filled camp they'll be sure to love, consider one of the summer gymnastics camps from Gymnastics Academy of Rockford and Gymnastics Academy North in Roscoe, Illinois. Children of all ages in Winnebago County, Ohio are welcome to come and learn new skills and make new friendships with fellow campers! Through fun gymnastics classes, exciting field trips, and many other interesting camp activities, your child can gain new self –confidence and have an overall amazing summer! For more information on this Rockford, Illinois area gymnastics facility and their camps, visit www.onefungym.com or call one of their locations today!
Gymnastics Academy of Rockford
6630 Spring Brook Road
Rockford, IL 61114
815.654.3867
Gymnastics Academy North
11447 2nd Street
Roscoe, IL 61073
815.623.2345