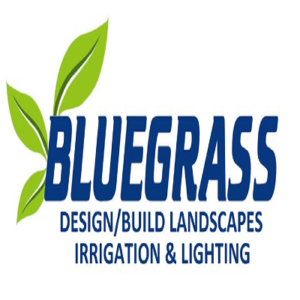 The most wonderful time of the year is on the horizon, and everyone is getting into the holiday spirit. No matter what's being celebrated, winter brings people together, and there is no better way to solidify this special time than a decadent custom landscaping design that screams holiday cheer! Here at Bluegrass Incorporated, we are dedicated to helping you create and sculpt your perfect yard so that it can serve you and your family for many winters to come.
Why should you choose us?
Established in 1994, we deliver high-quality craftsmanship with superior service and are well renowned as the contractor that you can depend on. Growing bigger and better for over 20 years, we now have even more experience in satisfying customers and creating gorgeous landscapes. Our staff has grown with us, ensuring that every service we provide is backed by qualified personnel to the fullest measure.
Being family owned and operated, we know how important this time of year is for making long-lasting memories, and our priority is your safety and satisfaction. Proudly licensed and insured, we also boast a full two-year warranty on both parts and labor, so our customers know we stand behind our quality craftsmanship. Partnered with the national irrigation association and established as a nationally certified irrigation contractor, we have been pleasing customers year after year without fail!
What can outdoor lighting do for your home?
One of the key services we provide here at Bluegrass Incorporated is outdoor lighting. Proper lighting outside of your home or business is essential to maintaining the desired atmosphere. Not only can ideal lighting completely enhance the curb appeal of any home or business, but it can also ensure safety and security. By eliminating potentially dangerous, unlit areas, outdoor lighting can add an important degree of security when it comes to break-ins or robberies.
Guests with access to a lighted path when leaving your home or business can avoid tripping or falling, which is a risk that can be prevented. The increase in curb appeal is another pro when considering investing in outdoor lighting, especially during the holiday season. Outdoor lighting brings a sense of warmth and safety to any home or business, leaving guests or customers feeling welcomed.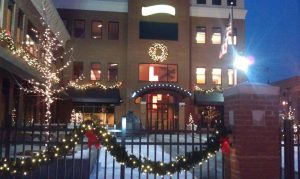 Outdoor residential living spaces, like outdoor kitchens, fire pits, or patios, are enhanced tenfold with atmospheric lighting. Providing both traditional, holiday, and LED outdoor lighting options, customers can find just what they're looking for to suit their needs. No matter the lighting system you choose to invest in, the outdoor area around your home or business is guaranteed to look amazing while being safe and secure!
Lighting is both an art and a science, and our team at Bluegrass Incorporated utilizes both to create a beautiful blend with amazing effects. We can provide a wide variety of creative designs that are created specifically to suit your outdoor space. We also boast sturdy construction work that will withstand harsh winds and storms, so you can use and enjoy our work for years to come. We specialize in the installation, removal, general service, and storage of lighting apparatuses…even Christmas lights!
You put up, store, and take down Christmas lights?
Yes! We do! There is no need to ever worry again about untangling strings of lights while the holiday spirit flies out of the window. With the holiday season fast approaching and being one of the most stressful times of the year for most people, we want to take away some of the stress. You can take the time you would use to decorate to shop and bake and still be able to appreciate twinkling lights as you pull into the driveway.
Our expert lighting team knows exactly where to place each fixture for optimum lighting potential, achieving the most beautiful appearance that will make your home or business stand out in the crowd. You can contact us here at Bluegrass Incorporated today to talk with one of our experts on what investments in your home or business are right for you. Together, we can sculpt a stunning landscape for your home or business. There is no limit to what we can create together!
Bluegrass Incorporated
4855 Hills and Dales Rd NW
Canton, Ohio 44708
330.492.8733
bluegrassincorporated.com/
Facebook