With the kids back in school and winter just around the corner, having a vehicle you can depend on for your Kent, Ohio commute is essential. Rather than suffer another year without a dependable vehicle, pay a visit to Jay's Auto Sales. At this pre-owned vehicle dealership, you can browse through a variety of affordable vehicle models to find the one that is perfect for your day-to-day travels through the Medina, Ohio area and beyond. Afraid you won't be able to invest in one of these pre-owned cars for your daily commute due to a poor credit? With pre-owned vehicle financing from Jay's Auto Sales, your credit history is irrelevant. Regardless of whether you have a history of bankruptcy or you have an exceptionally low credit score, you're pre-approved at Jay's Auto Sales! By offering these financing services to all credit types, Jay's Auto Sales is able to help individuals find the reliable pre-owned vehicles they need for their Massillon, Ohio or Fairlawn, Ohio travels!
As a matter-of-fact, Jay's Auto Sales has been providing pre-owned vehicle financing options to the credit challenged since 1986.  If you have a poor credit history, many dealerships will turn you away or entice you with dealership financing services that can do more damage to you than actual help. Jay's Auto Sales believes that everyone deserves to have a reliable pre-owned vehicle they can rely on for their Kent or Medina area commute, and that is why they provide all credit financing services to their customers. Of course, they're also happy to offer these financing services in honor of you – their customer.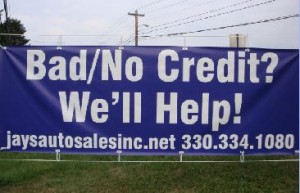 For years, loyal customers like you have made Jay's Auto Sales one of the first places many individuals visit to find affordable vehicle models they can depend on. This is because nearly 80% of sales at Jay's Auto Sales are made possible through referrals by previous customers. Third generation customers, friends, and family members have all come to Jay's Auto Sales to find the perfect reconditioned vehicle for their travel needs because they know that this pre-owned vehicle dealership takes care of their customers as well as their vehicles.  This fall, Jay's Auto Sales is honoring their Massillon and Fairlawn customers like you with a Customer Appreciation Day!
As part of their 3rd Annual Customer Appreciation Day – September 20th, 2014—Jay's Auto Sales will be providing a DJ, free food, and free drinks to all of their loyal customers in the Medina, Ohio area and beyond! There will also be pony rides and a bouncy house for the kids to enjoy while you browse through their selection of affordable vehicle models. Don't forget, this pre-owned vehicle dealership is also holding drawings for a free gas card, oil change, or deluxe car wash as part of their Customer Appreciation Day festivities! While enjoying these festivities, feel free to browse their lot for your next vehicle.
With so many reliable pre-owned vehicles in stock, choosing the right model for you can be difficult. Luckily, Jay's Auto Sales' friendly sales consultants are there to help you find the model that is right for you and your family's Kent, Ohio travel needs this season. Best of all, they offer the pre-owned vehicle financing you need to obtain the vehicle of your dreams! If you're from the Massillon, Ohio or Fairlawn, Ohio area and would like to learn more, visit www.jaysautosalesinc.net or call 330.334.1080 today!
Jay's Auto Sales
1310 High Street
Wadsworth, OH 44281
www.jaysautosalesinc.net
330.334.1080