Commercial refrigeration equipment is a major investment. Without proper care, however, the essential business assets can become costly mistakes. For businesses in Stark County, Ohio that rely on commercial ice makers and those in Summit County, Ohio and Portage County, Ohio that rely on reach-in and walk-in coolers, periodic clean and check services are priceless. With Miller's Refrigeration in Akron, Ohio, equipment care services including condenser maintenance, evaporator coil cleaning, and refrigerant charge checks for all types of commercial units are also affordable.
Neglect negates the efficiency and value of many things. Vehicle performance can suffer and ultimately cease without oil and filter changes. Homes without upkeep will appraise for less than those that are cared for. Even a piano will play poorly if not properly tuned. And although professionals throughout Northeast Ohio own these assets and know the costs of substandard care, they often overlook regular maintenance for their commercial refrigeration equipment.
Perhaps it's the temperature regulation, defrost cycles, and other automatic features that make commercial refrigeration equipment seem solely self-sufficient. But manufacturers, skilled servicers, and business owners who have learned the hard way can assure you they are not.
A commercial ice maker, for example, needs its wash bin sanitized every two to three months and replaced every two to three years. Its water hose should be de-limed when sanitization occurs and its water filters changed within the following three months. The effects of bypassing these periodic necessities can first appear in smaller ice cubes and later in the strange taste of unclean ice.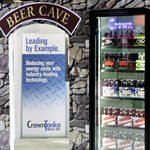 For reach-n and walk-in coolers, condenser maintenance and evaporator coil cleaning should occur every six months. That is unless these business essentials are kept outdoors and therefore warrant attention more often. In either case, clear and adequate air flow must be maintained at all times. For indoor coolers that means no boxes or other blockages belong near the coils. And for outdoor units it means no trash or weeds and regular cleanings to remove dust, dirt, and debris.
Clean and check services by the team at Miller's Refrigeration covers these necessities and more. From cleaning fan blades to reduce drag, servicing fan motors to ensure optimum speed, and making sure door hinges are providing full closure; Miller's Refrigeration is thorough. The commercial refrigeration experts also evaluate refrigerant charge and electrical connections. These aspects of their clean and check services ensure proper cooling and amperage which avoids waste in both products and energy use.
With over 40 years of experience, Miller's Refrigeration has accumulated the expertise that business owners in Stark County; Summit County; and Portage County can count on. The local sales and service company is also a family-owned entity with three generations working in tandem and a proud member of the BBB. Their clean and check services and other offerings are available to businesses in and around the following areas:
Akron
Alliance
Barberton
Canal Fulton
Canton
North Canton
Fairlawn
Hudson
Massillon
Streetsboro
Miller's Refrigeration is not limited in the types of commercial refrigeration equipment they can service and provide. Visit their website at http://millersrefrigeration.com/ to see the product types and manufacturers in their portfolio. Crown Tonka, Turbo Air, Manitowoc, Hoshizaki, and Follet are a few of the brands they can clean and check or install brand new. So should you need condenser maintenance, evaporator coil cleaning, refrigerant charge, repairs or replacements, call Miller's Refrigeration at 330.784.4527. Schedule a visit to your business in Stark County, Ohio; Summit County, Ohio; or Portage County and begin your relationship with Miller's Refrigeration today!
Miller's Refrigeration
2215 E Waterloo Road #402
Akron, Ohio 44312
330.784.4527