By Gemma Chriss
Residents throughout Tallmadge, Green, Kent, and beyond are encouraged to stop by Ohio Brewing Company this month, regardless of whether they're first-time visitors or frequent customers. This local brewery in Akron has a number of fun events scheduled for August, from live music by popular local bands to a tap takeover featuring German Kolsch-style beer. As always, this craft brewery will be hosting Tuesday trivia nights so customers can enjoy some friendly competition while sipping one of OBC's many flavorful brews. Plus, Ohio Brewing Company patrons can also receive 10% off any entrée this month by printing out this blog or displaying it on a smart phone!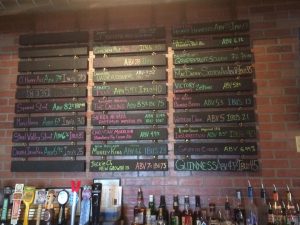 What's up first at Ohio Brewing Company? For starters, there's their ever-popular trivia night. Led by an MC every Tuesday at 7:30 pm, trivia night at OBC gives customers the opportunity to answer questions on a wide variety of subjects. Not only is a fun activity to take part in during a round of drinks, but the top scores win prizes every week!
On Thursdays, Ohio Brewing Company features the best in live music. Local bands in Akron and beyond are invited to provide guests with some additional entertainment throughout the evening. Those who are interested in checking out the live music at OBC should "like" their Facebook page to see what local bands are scheduled to perform next.
Finally, this craft brewery will be showcasing a Kolsch-style beer tap takeover later this month—the first of its kind in the region! Ohio Brewing Company will feature not one, but two of their German Kolsch Style ales. These German Kolsch style beers are golden and smooth tasting with a crisp, clean finish—the perfect beverage to cool off after a hot summer day! In addition to their own brews, OBC will have two rare Kolsch beers from Cologne, Germany and five other fine Kolsch-style beers from craft breweries in the United States. This tap takeover will run from Wednesday, August 17th through Sunday, August 21st or until the taps run dry.
Prost!
Ohio Brewing Company
804 W Market St
Akron, Ohio 44303
Ph: 234.208.6797
www.ohiobrewing.com
Facebook