The art of quilting is as much about paying tribute as it is a display of skill. Throughout history, quilt makers have told stories and celebrated events, people, and families with their work. True to this tradition, the experienced quilters at Memory Lane Quilting create memorial quilts in honor of lost loved ones. These quilts serve as wall art for people in places like Parma, Ohio just as they comfort others in Solon, Ohio. And the quilt shop in Brecksville, Ohio can make personal or gift quilts to celebrate your memories as well.
Memory Lane Quilting is a place where families come first. The quilt shop came to be because its owners wanted to provide exceptional finishing services for quilt tops made by its broad range of customers. In doing so, their belief that a beautiful quilt made by a family member is a cherished memory that will last a lifetime was confirmed. And they soon realized that a quilt made to memorialize lost family members could be just as special.

Granted the quilt makers at Memory Lane Quilting still offer their exquisite finishing services. Memorial quilts made entirely in the quilt shop have grown to be what Memory Lane Quilting is known for. These quilts are crafted from the clothing of a loved one who had passed on. Family members from Parma, Solon and surrounding areas bring favorite articles of clothing into the quilt shop. The quilt makers then cut the clothing to create a unique patchwork or other pattern quilt.
While each finished product is inevitably unique, all are machine bound with a single layer of polyester batting and a four-inch black border with stippled white or off white thread. These standard features ensure that memorial quilts from Memory Lane Quilting will stand the test of time. And as they are available in three sizes – wall hanging, lap quilt, or twin bed size – they make lovely personal items and inimitable gift quilts.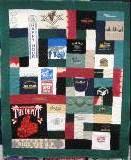 If you would like to see examples of the memorial quilts go to www.memorylanequilting.com or stop by the quilt shop today. To place an order for personal and/or gift quilts, call the quilt makers at 330.468.2831 or bring your favorite articles with you when you visit the shop. Please note that if you don't have any clothing to apply to your quilt, the quilters can help you select fabrics in colors and textures that remind you of your loved one. Their goal is to create a quilt that you can take home to Parma, Ohio or Solon, Ohio and cherish for years to come. And per their level of skill and attention to detail, you can expect exceptional results.
Memory Lane Quilting
6950 Miller Road
Brecksville, Ohio 44141
330.468.2831
www.memorylanequilting.com