Valentine's Day is fast approaching, which is why it's so important to make your dinner reservation now instead of waiting until the last minute. Unfortunately, you may find it difficult to decide on a venue as many of the establishments around the Columbiana, Ohio and Sebring, Ohio areas aren't exactly suitable for a romantic meal. If the plan is to treat your significant other to a wonderful Valentine's Day dinner, there are a number of things to look for before reserving a table. Soft lighting, comfortable seating, delicious food, and a large selection of wine offerings are ideal for those wanting to enjoy a cozy dinner for two this weekend. Thankfully, Ezio's Italian Restaurant in Salem, Ohio meets all of the aforementioned criteria. Not only is this local Italian restaurant known for crafting some of the best Italian dishes in the area, but they recently renovated their dining room and expanded their wine list!
Since most chain establishments lack the kind of atmosphere one would normally look for when planning to go out for a romantic meal, your significant other will undoubtedly appreciate a dinner reservation at a local treasure such as Ezio's Italian Restaurant. The dining room at this family-run Italian restaurant is spacious enough that guests can have the privacy they crave during a Valentine's Day dinner. Combined with the beautiful, Italian-inspired décor, Ezio's provides the perfect setting for an evening out with your loved one.
Along with possessing a cozy, romantic atmosphere, this Salem-based establishment has some of the best Italian food in the area. People travel from Columbiana, Sebring, and beyond just to sample some of Ezio's famous Gnocchi Lombardi—a delicious dish made with potato dumplings, Alfredo sauce, green peas, and bacon. This local Italian restaurant will prove to be an excellent choice for Valentine's Day dinner, especially if you and your significant other enjoy steak, seafood, and pasta made with fresh, high-quality ingredients. Their new seasonal specials will even allow you to sample some mouthwatering entrées that aren't available on their regular menu!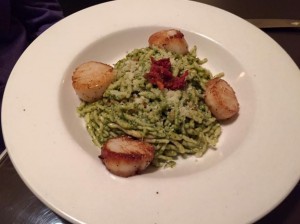 As if serving up the best Italian food in the area weren't enough, Ezio's also has one of the most impressive wine lists around. Their wine offerings vary from red to white, sweet to dry, and everything in between. Displayed on the lovely new racks set up near their bar, the wine offerings at Ezio's Italian Restaurant will satisfy even the most particular palates.
Since Valentine's Day is right around the corner, it's in your best interest to make a dinner reservation now before the seats at Ezio's Italian Restaurant are all filled up! Give this local Italian restaurant a call at 330.337.3872 to reserve a table in their quaint dining room so you and your loved one can enjoy a romantic meal with some of the best Italian food and wine offerings you've ever had. When the weekend rolls around, simply take the short trip from your Columbiana, Ohio or Sebring, Ohio home to Ezio's for a Valentine's Day dinner you won't soon forget!
Ezio's Italian Restaurant
182 S Broadway Ave
Salem, Ohio 44460
Ph: 330.337.3872
www.eziosrestaurant.com
Facebook