By Fiona Vernon
Nothing is more important than the safety and happiness of one's children, and parents from Cleveland, Ohio, to North Canton, Ohio, do all that they can to make that possible. One of the most enjoyable parts of being a parent is watching children play and laugh. Maintaining their happiness is not a difficult feat when they are infants — a tickle here and a peek-a-boo there — but as they get older and become more active, they usually learn the hard way that something might harm them. When toddlers are climbing and running, it is the perfect time to look for a playset to keep them busy and active, and the top concern when choosing one is its safety rating. Once the playset is chosen, it's time to consider safe playground surfaces. Most injuries on playgrounds result from falls on hard, coarse surfaces, but SYNLawn of Northeast Ohio can help prevent unsafe playground areas with their variety of artificial turf products. Their system is designed for all types of playground equipment, so the appropriate one will coincide with the play area setup. They have created many commercial playgrounds, which are all CSA approved and IPEMA certified. When looking for a non-allergenic, non-abrasive, padded playground flooring in and around Akron, Ohio, and Cuyahoga Falls, Ohio, this synthetic grass company can provide the safety everyone craves for their children.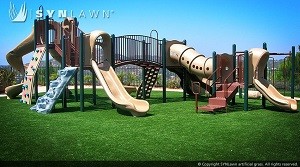 The safe playground surfaces that SYNLawn of Northeast Ohio installs in and around Cleveland and Cuyahoga Falls are designed to protect children from falls as high as 10 feet under IPEMA standards and CSA Approved Fall Attenuation. IPEMA, or International Play Equipment Manufacturers Association, is a non-profit, membership, trade organization who is recognized industry wide as seeking to promote play, encourage safety, and provide certification programs for playground environments. CSA, or Canadian Standards Association, provides testing and certification services for a wide variety of products worldwide. All of SYNLawn's artificial turf products can be used for play areas, and provide many benefits compared to natural grass. A soft padding is installed under the grass and will not move even under the roughest child's play. This padded playground flooring will help avoid the painful falls that are associated with any child playing, as well as avoiding the stress of trying to calm a child who has fallen off the rock wall and hit a solid floor. Parents can breathe easy while their children are playing on a SYNLawn installed playground system.
Not only does the padded playground flooring installed by SYNLawn of Northeast Ohio ease the mind of a parent in Akron, but so will all the other ways it saves time, stress, and money. The non-abrasive playground floor is soft to the touch, so the number of abrasions and grass-stained knees that children get from falling or even just playing on the lawn will decrease over time.  One of the bonuses that individuals usually do not even consider is the fact that the flooring is also non-allergenic. This means that children's allergies won't act up when they play outside, and they won't be exposed to pesticides and lawn maintenance chemicals that are frequently applied to help lawns flourish. It also requires no mowing or watering. This not only maintains a child's health, but allows the homeowner more relaxation time and saves them money, since they won't be worried about typical lawn maintenance! Another plus is that synthetic grass is ready for play immediately after one of those many rains in Northeast Ohio. Instead of waiting for the yard to dry, owners can be confident in the drain rate of 30-inches per hour! SYNLawn of Northeast Ohio cares about their clients and wants to save them money, as well as ensure their family's safety, so they provide TrampleZones that are easily changed. When high-traffic areas have worn and need replaced, one only needs to replace that small area. Not only does this synthetic grass company assist homeowners in keeping their children safe, they also install commercial playgrounds to many businesses in North Canton and beyond.
When parents from Cleveland, Ohio, to North Canton, Ohio, are starting to choose play equipment for their yard to keep their children happy and engaged, they can take the stress out of anticipating dangerous falls with safe playground surfaces from SYNLawn of Northeast Ohio. Many commercial playgrounds feature padded playground flooring and now parents in Cuyahoga Falls, Ohio; Akron, Ohio; and beyond can enjoy this benefit at home under their rock climbing walls and monkey bars. This synthetic grass company offers the advantages of not just fall safety, but also non-allergenic, non-abrasive playground flooring, which will save the anxiety caused by tears and hospital trips. Their artificial turf products offer many features that will make installing their playground system one of the best decisions of one's adult life. Start the process with one simple phone call, and relax more!
SYNLawn of Northeast Ohio
4855 Hills & Dales Rd NW
Canton, Ohio 44708
330.639.1564
www.synlawnneohio.com