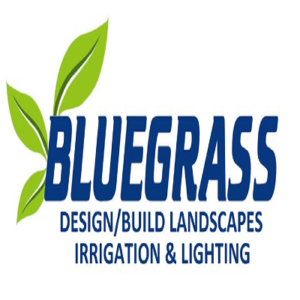 by Fiona Vernon
Summer is the time of year when you should be able to get out and enjoy your backyard to its fullest extent. With warm breezes at sunset, grilling out for dinner in your state-of-the-art backyard kitchen can be the highlight of your week. Our incredible team of contractors at Bluegrass Incorporated are here to help you build your dream yard, boasting services that range from irrigation installation to invisible pet fencing.
We truly have the tools to help you create your perfectly tailored yard. Established in 1994, we are a team of contractors on whom you can depend, as we have been family owned operated for three generations now! Fully licensed and insured, we care about your safety and the quality of construction we are bringing to your home. With a full two-year warranty on parts and labor, our team is here to make sure you're fully satisfied with the superior products and service that we provide.
Custom Landscaping Installation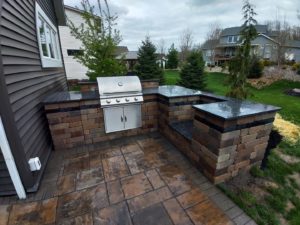 No one does custom and full-service landscaping like we do! Our provided services offer you everything you could possibly need to create your perfect personalized outdoor area. From land designs to lighting fixtures, we boast high-quality work that holds up through rough weather and seasonal changes. We take the time to listen to your needs at Bluegrass Incorporated, and we want to help you craft your dream yard! We take pride in our process, starting with the most important thing­—you! Walking around your desired renovation space, we can discuss all the features you may want added or removed. We go over your entire plan with you, walking step by step through your needs and what will suit them!
Irrigation Installation
What else could you add to your yard that is not only beneficial for the local flora and fauna, but also adds a beautiful element to the design? Water features create a sophisticated look and feel to any landscaping, and our contractors know how to work with any canvas! To create the perfect irrigation layout to match your yard, our consultants will come out and evaluate your space, walking with you through every step. Long gone are the days of wrestling with tangled water hoses and working around clunky, above-ground sprinkler systems or even wasting your valuable days off standing there with a hose in your hand.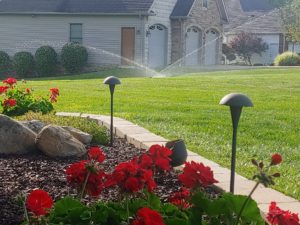 Our consultants have over 40 years of combined experience in irrigation systems. Here at Bluegrass Incorporated, we are all too aware of the rising cost and importance of water, so we make sure your irrigation system is set up to get the most out of your money. Together, we will create a system that perfectly matches your desire for your outdoor space. After the consultation phase, we can begin the design phase in which we work with you to map out the ideal image of your dream outdoor space. This is the most important part of the process, as we want to ensure you're getting just what you need out of your yard. We are dedicated to providing the time and detail to your project that it deserves, so that it may serve you and your family for years to come.
Regardless of the renovations you are trying to make to your yard, our expert team of contractors and consultants here at Bluegrass Incorporated ensures that you're happy with your investment. Starting any project is a commitment, one that we are ready to make with you!
Bluegrass Incorporated
4855 Hills and Dales Rd NW
Canton, Ohio 44708
330.492.8733
bluegrassincorporated.com/
Facebook