By Fiona Vernon
During the warm months, cats and dogs alike enjoy being outside where they can spend time with their owners or explore their surroundings. Unfortunately, ticks and other pests tend to be lurking in tall grasses and other areas outside where they can be picked up by pets and humans alike. For this reason, it is important for pets to be on a form of tick control to help repel these pests when they come in contact with them. After all, ticks are known to carry harmful diseases that can affect pets and humans alike, making proper prevention important to overall pet wellness. Of these diseases, Lyme disease is one of the most frequently noted diseases that can be carried by ticks.
Although not every tick carries Lyme disease, Belpar Pet Care Centre near East Canton encourages pet owners to inspect their pet's coat and skin for ticks after they spend time outside to ensure they are not carrying them in the house with them. By finding the ticks sooner than later, the risk of Lyme disease can drastically be decreased. This is because Lyme disease usually takes 48 hours to be transferred from the tick to the dog that it has bitten. Cats can also contract Lyme disease from a tick, although it is much more uncommon than it is in dogs.
With black-legged ticks known to carry Lyme disease increasing in population throughout the Northeast Ohio region – including areas of Orrville, Alliance, and Dalton—it's more important than ever for cats and dogs to be on a routine treatment to reduce their chances of becoming bit by an infected tick. Because there are so many different tick treatments available on the market today, it's not always easy for pet owners to determine which one is best for their pet. At Belpar Pet Care Centre, pet owners can speak one-on-one with one of their knowledgeable veterinary staff to learn more about tick control and the treatment options available for their cat or dog.
If a cat or dog has already been bitten by a tick, pet owners are encouraged to schedule an appointment with one of Belpar Pet Care Centre's veterinarians to have their pet examined for Lyme disease. A visit to this veterinary care center is even more necessary if a pet is experiencing any of the following symptoms after being bitten by a tick:
Lameness
Joint Inflammation
Loss of Appetite
Lethargy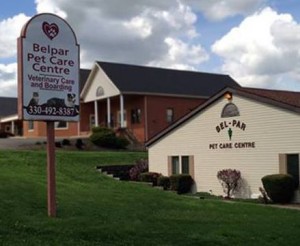 If it is determined by one of Belpar Pet Care Centre's professional veterinarians that the pet has contracted Lyme disease, it can easily be treated. However, some dogs have been known to develop more severe symptoms, making a trip to Belpar Pet Care Centre even more important if a pet owner suspects Lyme disease.  Even if a pet hasn't been exposed to ticks, they should still be on a tick treatment throughout the year. This is because ticks –especially those that live within the Dalton, Orrville, and Alliance areas—can survive during the winter months and can be carried in to a home on the clothing of a human. For this reason, routine tick control now more than ever is important to ensure pet wellness throughout the year.
To learn more about this veterinary care center near East Canton, visit their website at www.belparvet.com. Otherwise, feel free to call 330.492.8387 to speak with one of their knowledgeable staff members.
Belpar Pet Care Centre
4835 Fulton Dr. NW
Canton, OH 44718
www.belparvet.com
330.492.8387