Twilight Boutique patrons throughout Parma, Ohio; Garfield Heights, Ohio; and the greater Cleveland, Ohio area should be pleased by the fact that this local establishment always takes customer suggestions seriously. When some consumers showed an interest in hookah tobacco, Twilight Boutique stocked up on products from popular brands like Fantasia, Starbuzz, and Social Smoke. When others wanted e-cigarettes and e-liquid, Twilight brought in new mods like the Kanger Protank and flavors from VaperMate. And now, when customers have expressed their desire for cigarettes, cigars, cigarillos, and loose leaf tobacco, Twilight Boutique has obtained the proper licensing for tobacco sales as well.
Unlike other establishments around Parma and Garfield Heights, Twilight Boutique welcomes input from their clientele. Knowing what their patrons are interested in allows Twilight Boutique to purchase the highest quality products from the top wholesalers and manufacturers on the market. As far as hookah, e-cig/e-liquid, and tobacco sales go, there's no other business around that has an inventory as extensive as Twilight Boutique.
For those who prefer the hit and flavor of hookah tobacco, this local establishment recently expanded their selection of flavored tobacco and hookah pipes. Not only does Twilight now carry genuine Egyptian hookahs, but they increased the number of Starbuzz and Social Smoke flavors in their shop. And that's in addition to the impressive selection of Fantasia hookah tobacco they have available as well!
For those who have recently hopped onto the e-cigarette/e-liquid train, Twilight Boutique also has a wide array of rechargeable mods and tasty vape liquids. When you stop over at this Cleveland area shop, you'll see cases filled with Kanger Protanks and mods from VaperMate. They also have a number of 100% VG VaperMate liquids in virtually any flavor you could want.
Though hookah and electronic cigarette products have become standard at Twilight Boutique, their inventory of traditional tobacco merchandise has always been lacking…until now. The staff members at Twilight Boutique have listened to their customers' suggestions and obtained the proper licensing for tobacco sales. And now, they want your input! Whether you're interested in cigarettes, cigars, cigarillos, or loose leaf tobacco so you can roll your own, Twilight Boutique wants to hear your recommendations. If there are specific brands that you'd like to see on Twilight's shelves, let them know! This is your opportunity to get the items you want for a reasonable price. Just like their other merchandise, the tobacco products at Twilight Boutique are sure to be affordable.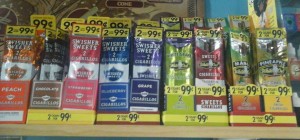 If you're interested to learn more about the Fantasia, Starbuzz, or Social Smoke hookah supplies at Twilight Boutique, visit their website at www.twlightboutique.ezlocal.com. You can also find additional information about their Kanger Protank e-cigarettes and VaperMate e-liquid by checking out their Facebook page. But if you have some ideas as far as tobacco sales go, be sure to post them on their Facebook page or send them an email. You can also take the quick trip from your Garfield Heights, Ohio or Parma, Ohio home to this Cleveland, Ohio area retailer if you'd like to offer your input on cigarettes, cigars, cigarillos, or loose leaf tobacco in person.
Twilight Boutique
15715 Madison Ave
Lakewood, Ohio 44107
Ph: 216.221.7777
www.twlightboutique.ezlocal.com