If you've been searching all over the Internet for water, metal, or glass pipes with no luck, then it might be time to look a little closer to home. Around the Cleveland, Ohio area maybe? With a large selection of pipes, hookah supplies, hemp and metal jewelry, tie-dyed apparel, vaporizers and more, Twilight Boutique in Lakewood, Ohio is the head shop to visit! Not only can you find all kinds of unique pieces at this novelty store near Westlake, Ohio, but the friendly and knowledgeable staff is always available to answer any questions you may have about their products.
Never heard of Twilight Boutique? Then you are really missing out! Having opened in December of 2011, this local head shop in Lakewood quickly earned a reputation for having an impressive inventory of beautiful, high-quality products. In fact, just seeing Twilight Boutique's store in person is worth the trip from Westlake!
Racks filled with vibrant t-shirts, shelves stocked with colorful glass pipes and hookahs… It's safe to say that there are few (if any) places in the Cleveland area that have the same kind of atmosphere as Twilight Boutique. And since this local head shop has such a wide variety of products available, you can feel confident that you'll find a number of items that fit your individual tastes and style.
If you're looking for something unique, there's just no better shop to visit than Twilight Boutique. With an assortment of glass pipes, tattoo equipment, tobacco rolling papers, hemp and metal jewelry, black lights, posters, vaporizers, detox products, blankets, incense, tie-dyed apparel, hookah supplies and more, Twilight Boutique is sure to have whatever item you're looking for. And if you can't seem to find it? Don't worry—Twilight Boutique's staff will be more than happy to help! The associates at Twilight Boutique enjoy talking about their products as much as customers like to learn about them. So if you have any questions about their selection or you even have a special request, an associate will make sure you don't leave without receiving the help you need!
In addition to their helpful staff and extensive selection of novelties, Twilight Boutique can offer you something else that you may not be able to get from the Internet or other head shops in the area—great prices. Not only can you avoid the shipping costs that come with ordering online, but Twilight Boutique's main goal is to provide customers with new, interesting products at affordable prices.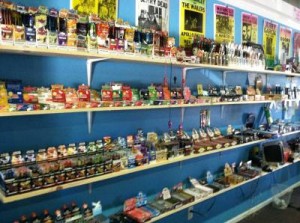 While Twilight Boutique can be raved about all day, it's just not the same as seeing it in person. So, what are you waiting for? Hop in the car and take the trip from your Cleveland, Ohio or Westlake, Ohio home to the area's premier head shop! Once you've seen the funky interior and their inventory of hookah supplies, hemp and metal jewelry, glass pipes, tie-dyed apparel and more, Twilight Boutique will quickly become your new favorite shop.
Twilight Boutique
15715 Madison Ave
Lakewood, Ohio
Phone: 216.221.7777
http://ezlocal.com/oh/lakewood/novelties-store/132573