Spring is nearly here and as the weather warms in Tuscarawas County, Ohio, you or your spouse might be itching to get out and work that green thumb magic on your yard in Dover, Ohio. Creating your own Garden of Eden doesn't just start and stop with planting a few blooming flower bushes and putting up a beautiful wooden arbor. It's countless hours of planting and then weeding, watering and tending to your garden. With this kind of vigilant work, wouldn't it be nice to sit back on some attractive outdoor furniture and admire it all? Fortunately, if you live in the Sugarcreek, Ohio area, you can every kind of outdoor furniture from table sets, benches and swings at Swiss Country Lawn & Crafts.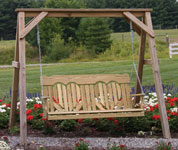 After all the hard work your spouse puts into her flower garden, the last thing you want is to have that cheap plastic furniture from big discount stores deterring from the beauty she's worked hard to create. By heading over to Swiss Country Lawn & Crafts in Sugarcreek you can find top quality outdoor furniture that is both attractive and durable. They offer a wide variety of both wooden and poly furniture such as tables, gliders, benches, swings, deck chairs and more. Your wife's heart will melt as you show your affection for her and appreciation for her hard work by purchasing one of their popular Rollback wooden swing sets that has been personalized with both of your names and wedding anniversary on it! And if you are hoping to take full advantage of the warm weather in Tuscarawas County and hosting a BBQ or two, then a sturdy outdoor poly table set will serve as the perfect setting for your friends and family to gather around.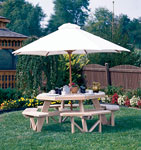 Swiss Country Lawn & Crafts offers more than just beautiful pieces of furniture for your Dover yard. You will find they have a wide selection of beautiful wooden arbors, flower planters, bird feeder and lawn ornaments that will serve to only add to the appeal of your garden. And if you are truly hoping to transform your back yard, one of their beautiful gazebos or pavilions would serve as a lovely addition to your grounds.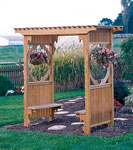 Regardless if you are just trying to find some attractive outdoor furniture for your patio or hoping to purchase a beautiful wooden arbor for your garden, Swiss Country Lawn & Crafts in Sugarcreek, Ohio has grand selection of quality products that will work for you. So as the weather gets warmer in Tuscarawas County, Ohio invest in an outdoor table set for that next family BBQ or surprise your wife with a comfortable wooden swing set for you both to cuddle on as you stare up into the Dover, Ohio starry night. For more information about their hours of operation and products visit their website http://www.swisscountrylawn.com/ or contact them at 330.852.2031.
Swiss Country Lawn & Crafts
2131 State Route 39
Sugarcreek, Ohio 44681
330.852.2031
http://www.swisscountrylawn.com/