Whether you're throwing a lavish party for your co-workers or just preparing another weekday dinner for your family, you want to use the best ingredients possible in your dishes. Unfortunately, most grocery stores near your Beachwood, Ohio or Mayfield, Ohio home are undoubtedly lacking in high-quality produce, meats, spices, and other products. In order to make your meal a successful one, you may want to shop at a farm market that not only carries fresh versions of the products you buy every day, but gourmet foods that can turn a regular dinner into an impressive feast. Though you may think this is a task that's easier said than done, all it takes is a quick trip to Miles Farmers Market near Chagrin Falls, Ohio. This family-owned and operated establishment has provided shoppers with the finest meats, cheeses, vegetables, fruits, select wines, coffees, and baked goods for decades, making them the go-to place for everything from clam bake kits to catering services!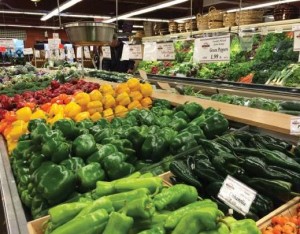 Since Miles Farmers Market initially started out as a seasonal farm market offering fresh fruits and vegetables, it comes as no surprise to find that this Chagrin Falls area establishment is a favorite among locals looking for quality produce. Their produce department is a great place to find crisp lettuce, crunchy carrots, tangy citrus fruits, and a wide variety of other organic and locally grown products. Miles Farmers Market has developed strong relationships with growers and shippers throughout Ohio and nearby states, so this farm market is able to provide customers with the finest fruits and vegetables around.
Though premium produce may be Miles' claim to fame, this family-owned establishment has expanded their product selection over the years, adding gourmet foods, select wines, specialty coffees, and all kinds of fresh baked goods to their inventory. Looking for the best olive oil for an authentic Italian meal? On the hunt for a foreign cheese you had on your trip abroad? You're sure to find exactly what you need within Miles Farmers Market's spacious facility. And in the off-chance you can't locate the item on your list, the associates at Miles Farmers Market would be more than happy to track it down for you!
Helping customers find tasty, high-quality foods is what prompted Miles Farmers Market to increase their inventory in the first place, and it just keeps on growing! In addition to offering ingredients that you can use in your own meals, Miles carries a number of pre-prepared items for your convenience. From homemade pies and oven-ready meats to seasoned fried chicken and take-home clam bakes,
this nearby establishment is an especially great resource for busy parents in need of meal options that are both quick and delicious. Countless residents throughout Beachwood and Mayfield have even taken advantage of Miles Farmers Market's catering service for holiday gatherings, graduation parties, and other special events!
Suffice it to say, there's nothing you can't find when you choose to shop at Miles Farmers Market. But if you're curious as to what other kinds of fresh produce and gourmet foods are available at this farm market near Chagrin Falls, Ohio, why not take a look at their website? By visiting www.milesfarmersmarket.com, you can additional information on their select wines, deli products, and even their featured clam bakes. If you have any questions about their catering service, feel free to give Miles Farmers Market a call at 440.248.5222. One of their associates would be happy to tell you more about how they can help make your Beachwood, Ohio or Mayfield, Ohio event one to remember!
Miles Farmers Market
28560 Miles Rd
Solon, Ohio 44139
Ph: 440.248.5222
www.milesfarmersmarket.com