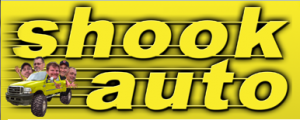 Searching for a new vehicle isn't always an easy task. For some, finding a reliable vehicle for the winter season can be even more difficult if they have poor credit history or no credit history at all. If you're from the Tuscarawas County, Ohio area and feel that getting a reliable pre-owned vehicle is out of your reach, think again. Shook Auto – located in New Philadelphia, Ohio—is proud to offer No Credit vehicle financing to those looking to invest in a new vehicle this season. After all, everyone needs to have a reliable way to get where they're going – especially in the winter! At Shook Auto, you're pre-approved the moment you walk onto their expansive lot. With their In-House vehicle financing, you can get the vehicle that fits your budget with one of the low interest rate loans they provide to those who qualify. Could you use a new vehicle for your Dover, Ohio commute? If so, Shook Auto is the place to go!
Shook Auto has many sources of financing available to those looking to invest in a new vehicle for their Tuscarawas County commute this winter season. Have you found a vehicle on Shook Auto's lot but aren't sure you can get the loan for it? With In-House vehicle financing, Shook Auto can turn your automotive dreams into a reality. Right now, you can get low interest rate loans with APR as low as 3.49% with approved credit! Do you have no credit or poor credit? Shook Auto's Financing Specialists will be happy to help you find the perfect loan plan for you. After all, they offer No Credit vehicle financing and so much more to help those throughout the Dover, New Philadelphia, and surrounding areas get the vehicle they need. Furthermore, this quality dealership is happy to offer a variety of top vehicle makes for you to choose from, including
Hyundai
Chrysler
Mercury
GMC
Ford
Dodge
Honda
Kia
And More!
With such a wide selection of affordable pre-owned vehicles, you'll be sure to find the perfect model for your budget and transportation needs. With the help of their knowledgeable finance team, you could drive off the lot with the car of your dreams that day!

Do you have a vehicle preference? Although Shook Auto's sales consultants can help you find the vehicle you've been searching for, their finance team will help you make it your own. This New Philadelphia, Ohio area dealership is happy to offer In-House vehicle financing to those who qualify. If you're from the Dover, Ohio area and have poor credit history, you may think that vehicle financing is out of the question. However, Shook Auto offers loan options to all credit types. Unlike some dealerships, Shook Auto offers No Credit vehicle financing so you can get the vehicle you've always wanted. After all, everyone deserves to have a safe and reliable vehicle this holiday season. For low rate interest loans on top quality vehicles, be sure to visit Shook Auto in Tuscarawas County, Ohio! For more information, visit www.shookauto.com or call one of their physical locations today!
Shook Auto
www.shookauto.com
1633 Steele Hill Rd.
New Philadelphia, OH 55663
330.339.5711
205 South Broadway
New Philadelphia, OH 44663
330.339.6711