By Fiona Vernon
Since 1980, Savarino Brothers Garden Center – located at 24670 Broadway Ave. in Oakwood Village, Ohio—has been providing a variety of bulk garden products to customers throughout the region.  Today, this local garden center continues to offer a variety of great products for their customers to choose from at affordable prices. Alongside these products, Savarino Brothers Garden Centers' friendly staff is happy to help provide customers with the expert gardening advice they need to create a beautiful landscape on their own property—especially in regards to mulching.
Ideally, mulch should not be used for flower beds until April 15th at the earliest. If new mulch is used before this time, not enough water from the rainy weather can be evaporated. In turn, this can leave the flower bed saturated and soggy. When soil conditions are too wet, plants can develop root rot or refuse to grow. Furthermore, the sooner new mulch is put out on the flower beds, the sooner it will lose its color. For homeowners who want their flower beds looking beautiful throughout the warm months, this is exceptionally important to note.
Even the highest quality mulch purchased will eventually lose its color. This is because constant exposure to sunlight and the elements wear at the color on a day to day basis. For this reason and many others, Savarino Brothers Garden Center' recommends placing new mulch on flower beds in areas like Twinsburg and Hudson between April 15th and June 15th. Not only will this give the flower beds enough time to evaporate away excess water, but it will also help keep the flower bed looking fresher much longer into the season.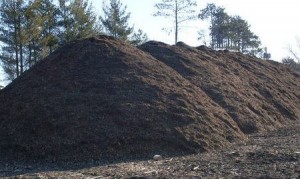 Right now, Savarino Brothers Garden Center has a variety of bulk mulch products in stock for customers to choose from for their property. Of these mulch products, their hardwood mulch is one of their more popular items. In fact, this dark brown and double shredded mulch is made by Savarino Brothers Garden Center themselves. By crafting this hardwood mulch on their own, they are able to determine the quality of the material they make. In this way, they are able to provide their customers with high quality mulch they can be proud to display as part of their landscape in the Northeast Ohio region.
Of course, Savarino Brothers Garden Center also carries an assortment of dyed mulch for their customers to select from as well. These double shredded mulches – available in black, red, and brown—are artificially colored to maintain their coloration longer than those more traditional wood mulches. For those customers that are looking for mulch that looks good while providing their plants with a high level of nutrients, Sweet Peet may be a better option.
Regardless of the mulch being used, Savarino Brothers Garden Center recommends using no more than a 2" layer of mulch for the year on flower beds. If more than this 2" would be used, fungus problems could arise. This is because the thicker the layer of mulch, the more compressed it is. If the mulch is too compressed, the sunlight is unable to penetrate through it to eradicate unnecessary moisture. It is in these moist conditions that mushrooms and other fungus can grow. Before the mulch can be used, however, it's important for homeowners to determine which mulch product is right for their property in the Aurora or Solon area. Unfortunately, this is not always an easy decision.
To help assist their customers further, Savarino Brothers Garden Center's staff works closely with their customers to help them find the quality mulch that is right for them. Not only this, but they provide them with the advice needed to properly landscape their flower beds for the season. For added convenience Savarino Brothers Garden Center also offers bulk deliveries to areas of Twinsburg, Solon, Hudson, Aurora, and many of the surrounding communities. With quality services like these, it's no wonder this local garden center has been a staple of the community for more than 30 years.
To learn more about Savarino Brothers Garden Center, visit their website at www.savarinobrothers.com. Otherwise, feel free to visit their physical location or call 440.439.5358 to speak to one of their knowledgeable staff members today.
Savarino Brothers Garden Center
24670 Broadway Ave
Oakwood Village, Ohio
www.savarinobrothers.com
440.439.5358