By Gemma Chriss
Now that summer has begun, many parents throughout the Rittman, Ohio and Wadsworth, Ohio areas are struggling to find fun children's activities that are suitable for their little ones. Though there are a number of nearby establishments designed to entertain the smallest of guests—such as parks, movie theaters, and skating rinks—it doesn't take long for children to lose interest. What parents really need to do is enroll their children in a program that allows participants to spend hours playing, learning, and creating. Thankfully, the day camp at Romp n Stomp gives children the opportunity to do just that! Consisting of bounce house playtime, team-building exercises, educational games, and more, summer camp at this local party center near Brunswick, Ohio offers a wonderful solution to every parent's predicament.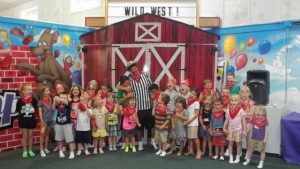 Unlike other organizations around the Rittman and Wadsworth areas, Romp n Stomp's day camp program doesn't recycle the same schedule day after day. Instead, it allows little ones to participate in a variety of different children's activities. Each week features an exciting new theme such as "Science of Toys," "Stunt Planes and Gliders," "Turn Up the Volume," "Seeking Our Senses," "Imagination Stations," "Growing Up Global," and "Fun with Fitness." All of the crafts, games, and team-building exercises that take place each day are focused on that week's theme so children stay engaged. Since the attention span of a child is fairly short, the fact that participants are always eager to return to day camp at Romp n Stomp is proof that the program is doing something right.
In addition to offering children's activities that are both fun and educational, this party center near Brunswick gives participants the opportunity to get the exercise they need. Free play is scheduled from 9:30 AM- 10:30 AM and 12:30 PM-2 PM. The First Aid and Pediatric CPR-certified counselors supervise as the campers run around the spacious facility and jump on the bounce houses set up inside. Not only does this ensure that the children get plenty of physical activity, but it also tires them out so they're ready for a nap when they arrive home!
The summer camp program at Romp n Stomp is also reasonably priced, especially when compared to others in the area. This local party center offers a number of options to fit each parent's budget and needs. Those interested in day camp can schedule half-day or full-day sessions every Monday, Wednesday, and Friday. Romp n Stomp even allows parents to enroll their children for a day, week, or the entire summer.
Those wanting to obtain additional information about summer day camp at this party center near Brunswick, Ohio can visit www.rompnstompcenter.net. Parents can get exact pricing for their children and even view photos of campers participating in bounce house fun and other team-building exercises. Specific questions about the children's activities available at Romp n Stomp can be addressed by calling 234.248.4405. Parents are also encouraged to take the trip from their Rittman, Ohio or Wadsworth, Ohio home in order to check out the facility in person.
Romp n Stomp
900 Medina Rd
Medina, Ohio 44256
Ph. 234.248.4405
info@rompnstomp.net
www.rompnstompcenter.net
Find them on Facebook!