By Fiona Vernon
Old Man winter has taken up residence from Erie, Pennsylvania, to Columbus, Ohio, and with all the time spent looking at the same four walls, individuals are starting to get cabin fever. They may start to daydream of the coming spring when they take the cover off their motorcycle and crank her up for a nice long ride. As many people feel the aches and pains of aging, they may slowly ease up on how much they are swinging their leg over their bike seat; however, many don't realize that they can stay on the road, feeling the wind in their hair, with one phone call to All Solutions Trikes. Riders from Mahoning County, Ohio, and beyond who want to be on the road in the spring with custom Honda and Kawasaki trikes can call them now for a custom trike conversion and still be ready when the weather breaks. This motorcycle trike builder not only specializes in conversions, but also offers trikes with independent suspensions, a manual reverse for Harleys, trike bumpers, and OEM parts. Anyone in and around Cleveland, Ohio, can enjoy spending hours on the road again on a custom Harley or Indian trike conversion from All Solutions Trikes.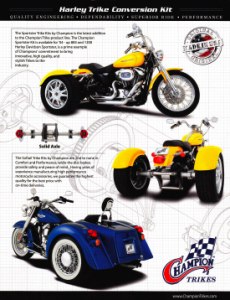 With the goal to make every adventure on the open road safe for everyone from Columbus to Cleveland, the knowledgeable and expert staff at All Solutions Trikes will provide the best quality parts and service. Not only do they offer some of the finest custom Harley and Honda trike conversions and trike OEM parts, but they also strive to increase every rider's safety and enjoyment by designing and manufacturing their own line of custom trailers and trike bumpers. This motorcycle trike builder carries the only retro-fit reverse gear kit for Harley-Davidson transmissions — available for 2006 and up 6-speed transmissions, 1999-2006 5-speed, twin cams, and 1984-1999 5-speed evolutions. They are made in the USA and can be installed on two wheelers, trikes, and sidecars. Some of the features of the manual reverse for Harleys are its low gear ratio that eases the bike back, it can be installed without the overall transmission dimensions being changed, and there is no battery drain since it's clutch operated.
Many people from Erie to Mahoning County don't realize how much thought has gone into trikes to make them ride as close to their two-wheeled counterparts as possible without the end result suffering from maneuverability and comfort. All Solutions Trikes offers kits that include trikes with independent suspensions; for example, the GL 1500 trike kit by Champion offers a zero-flex swing arm for impressive stability, precise handling, and performance disc brakes for remarkable safety. Whether someone is looking for a custom Kawasaki or Indian trike, they can count on this motorcycle trike builder for comprehensive products and services — from custom-painted utility trailers to oil changes, brakes, and tires, as well as pickup and delivery. For riding enthusiasts whose goal is to get on the road this spring and increase their road time in comfort still have time to call All Solutions Trikes. Conversion times depend on the specific motorcycle, so scheduling now will ensure that that trike will be ready when the owner is anxious for the open road ahead of him.
Trikes are a newer open road riding option for many motorcycle enthusiasts from Columbus, Ohio, to Mahoning County, Ohio, since they allow riders of any age to stay riding comfortably. It's the perfect time for anyone from Erie, Pennsylvania, to Cleveland, Ohio, who is looking to show up on the road when the spring riding season arrives on a custom Harley, Indian, Kawasaki, or Honda trike to call All Solutions Trikes. Not only do they excel at custom trike conversions with independent suspension, but they also install manual reverses on Harleys, trike bumpers for added safety, and carry a wide selection of trike OEM parts. This motorcycle trike builder is only a phone call away and available to get every rider ready to feel that freedom once again!
All Solutions Trikes
4530 Erie Ave SW
Navarre, Ohio 44662
330.791.7096
allsolutionstrikes.com/