By Fiona Vernon
Is it becoming difficult to climb the stairs? 65% of American houses have two or more levels, and no one should ever have to consider leaving the comfort of the beautiful home in which they have resided for years just because of its layout. An affordable indoor or outdoor curved or straight stairlift installed by Access Solutions, Inc. is a simple and safe alternative to climbing stairs that allows anyone from Youngstown, Ohio, to Akron, Ohio, to maintain their independence without making significant changes to the structures of their home. Not only can this local stairlift company provide either handicapped or elderly individuals with the luxury of barrier-free living, but their home mobility solutions — from access ramps and wheelchair lifts to residential dumbwaiters and elevators — can also increase the value of a home. Access Solutions, Inc. offers anyone in Hudson, Ohio, and all throughout Northeast Ohio who want to age in place a wide selection of products that will fit any budget and situation, putting their favorite activities easily within reach.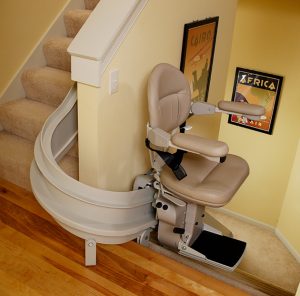 Many people throughout Northeast Ohio have relied on the veteran and family-owned expertise of Access Solutions, Inc. with their 50 years of combined experience in the home mobility industry, providing solutions for anyone desiring increased access to any part of their home. Most of their affordable stairlifts are battery-operated so that they will still function during a power outage. Many have standard features that include a swivel seat at the top landing, wireless remotes, automatic chargers, and so much more. This local stairlift company is an authorized dealer for Bruno, Harmar, and Savaria, offering a vast array of stairlift models to accommodate the indoor, outdoor, curved, or straight staircases in any building. Access Solutions, Inc. offers quick and compassionate service for those in need, as stated by Z.S. in Akron:
"Access Solutions responded quickly to my call and installed the chair lift quickly so that my husband could come home from the hospital and easily navigate our home. Thank you, Access Solutions! That meant the world to both of us!"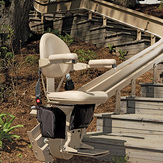 Anyone from Youngstown to Hudson who is looking for alternatives to climbing stairs, as well as increasing the value of their home, will find all they need to age in place with the residential access ramps, wheelchair lifts, dumbwaiters, elevators, and stairlifts provided and installed by Access Solutions, Inc. They carry Bruno stairlifts, such as their most popular Elan indoor straight stairlift that offers a dependable, quiet ride from start to finish with a unique low-profile rail design that leaves plenty of room on the stairs for family members. Their Bruno Elite indoor curved stairlift offers quality and comfort second to none with many customizable power and comfort options, like power swivel seats and power folding footrests. They are also a Harmar dealer, with their Pinnacle Stairlift that features zero maintenance, extended performance, and lower energy bills from its low friction system. It's their most compact stairlift, folding closer to the wall than most models. They also carry Savaria stairlifts, like the K-2, which is out of the way when not in use, yet ready at any moment to carry up to 350 pounds. Anyone looking for barrier-free living can count on the variety of customizable products offered by Access Solutions, Inc.
Aging in place is a huge concern for the 10,000 baby boomers that are turning 65 every day for the next 11 years. Residents from Youngstown, Ohio, to Hudson, Ohio, can count on the home mobility solutions at Access Solutions, Inc. when they are searching for alternatives to climbing stairs. Without dramatic changes to a home's structure, this local stairlift company can not only increase the value of a home in Northeast Ohio, but they can also provide the invaluable freedom of barrier-free living with their indoor, outdoor, curved, or straight stairlifts. People throughout Akron, Ohio, and beyond who have counted on the expertise of Access Solutions, Inc. for affordable access ramps, wheelchair lifts, stairlifts, and residential dumbwaiters and elevators can attest to the fact that their compassion and quality shine through in everything that they do.
 
Access Solutions, Inc.
2415 Gilchrist Rd.
Akron, Ohio 44305
330.753.7499
888.269.1622
accesssolutionsonline.com/
Facebook Page