If you're a pet parent, you're probably familiar with Club K9 of Wickliffe, the premier pet resort and training facility near Kirtland, Ohio. Offering a wide range of dog services including daycare, behavior classes, overnight boarding, and more, Club K9 makes it easy for owners to get the help they need to care for their pets. During the winter season, this local establishment even hosts pack walks every other Saturday so their clients don't have to endure the cold. However, while more and more people throughout the Mayfield, Ohio and Euclid, Ohio areas are taking advantage of indoor dog walking at Club K9, there's one service this establishment offers that many people don't know about—dog birthday parties!
Like most pet owners, you undoubtedly treat your dog as just another member of the family. In addition to giving them special Christmas presents and praising them for completing puppy classes, you may celebrate their birth with a fun-filled day honoring them. However, since you don't want to have your Euclid or Mayfield home destroyed by all of the canine guests you invite, it's nice to know that you can rent out Club K9 of Wickliffe specifically for your dog birthday party! With over 6,000 square feet of play area available, this pet resort and training facility is the perfect venue for your next canine event. Not only will the dogs have plenty of space to romp around, but they'll be able to use all of the fun equipment Club K9 has set up for daycare! Plus, anyone who opts to host their dog birthday party at this Kirtland area establishment is free to bring in the goodies of their choice. Maybe a homemade peanut butter cake or just some tasty ice cream sprinkled with doggy treats!
Even if you don't have a dog birthday party coming up anytime soon, you may still want to take a trip to this local pet resort and training facility, especially if you're tired of dealing with low temperatures every time you take Scruffy outside. Of all the dog services Club K9 of Wickliffe offers, pack walks tend to be the most popular ones in the winter. Probably because indoor dog walking sounds a lot more appealing than bundling up just so the dog can get some exercise. Available every other Saturday during select months, pack walks allow owners to walk and train their dogs within a group. And for just $10, this dog service is well worth it!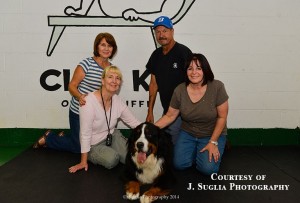 Of course, pack walks and dog birthday parties are just a couple of the dog services available at Club K9 of Wickliffe. If you'd like to learn more about this pet resort and training facility, check out their website at www.clubk9ofwickliffe.com and "like" them on Facebook. If you have any questions about renting their space or signing up for indoor dog walking, just give this Kirtland, Ohio area establishment a call at 440.516.0510. Or better yet, take the short trip from your Mayfield, Ohio or Euclid, Ohio home to Club K9 of Wickliffe so you can talk to their friendly staff in person!
Just don't forget to click HERE to take their survey so you can receive additional information about their services!
 
Club K9 of Wickliffe
30400 Lakeland Blvd
Wickliffe,Ohio 44092
Ph: 440.516.0510
www.clubk9ofwickliffe.com