Many people have fond memories of flying through the air on a swing, crossing the expanse of a playground on a set of monkey-bars, or gliding down to the ground on a slide. Such pastimes are wonderful to look back on with a smile. And shouldn't your children have the same experience? Play Mor Swing Sets doesn't just offer wooden play sets and other fine quality swing sets to homeowners in the Holmes County, Ohio area, they help to create fun family memories that you and your loved ones will cherish forever. So, if your Millersburg, Ohio or Berlin, Ohio backyard is missing one of these enjoyable sets, why not learn more about the structural strength and easy assembly of Play Mor's products?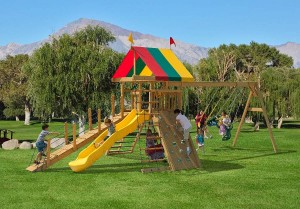 Being a provider of wooden play sets to residents around the Holmes County area since 1992, Play Mor Swing Sets has grown in leaps and bounds. While Play Mor initially began as a three-man team, they now employ more than fifteen year-round workers to craft each one of their products. Made out of high-quality materials for structural strength, Play Mor makes sure that the set you put in your Millersburg or Berlin yard is completely safe for your children's use.
And it's also safe to say that your children will have a fantastic time playing on one of Play Mor's fine quality swing sets! Your little ones will have the opportunity to act as pirates, princesses, sailors, astronauts, or whatever character they come up with. You had a wonderful time creating imaginary worlds as you jumped, swung, and slid on the playground, and you'll get just as much enjoyment out of watching your children do the same!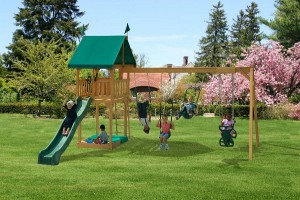 At Play Mor Swing Sets, their motto is "Quality Play Sets . . .Creating Family Memories." And that's exactly what you can expect when you purchase one of their swing sets, towers, yachts, or harbors: a lifetime of fun family memories with your children and your grandchildren. Play Mor still remains a family-owned business that builds products to encourage families to spend more quality time together. Play Mor's extensive inventory isn't just for kids to run and play—it's a way for families to laugh and enjoy one another's company.
So, if you've been looking for a way to entertain and spend more time with your family, one of Play Mor's fine quality swing sets might be just the thing. Simply visit their website at www.playmor-swingsets.com to take a look at some of the creative designs they have available. There's sure to be one that your Millersburg, Ohio or Berlin, Ohio family will love! And once you've picked out the perfect wooden play set for your Holmes County, Ohio yard, you can contact one of Play Mor's associates to learn more about the set's structural strength, as well as when you can have it installed. Play Mor Swing Sets gives people all over Ohio the opportunity to create fun family memories, so why not begin making more of yours today?