For thirty-six years, Paul's Lawn & Garden has been servicing the Stark County, Ohio region. As one of the area's leading providers of quality lawn and garden equipment, Paul's Lawn & Garden has a range of leading brand products from tractors and trimmers to generators and heaters. After the wake of Hurricane Sandy and as winter weather threatens to move into the Canton, Ohio area soon, now is the time to start looking into reliable emergency power for your home. Whether you are looking for something to serve as a back-up for your home or for recreational use, Paul's Lawn & Garden's wide selection of Honda portable and home generators might just be what you need to invest in for your Massillon, Ohio home.
Many people feel the idea of owning a generator is unnecessary. The very idea of spending money for an emergency scenario seems impractical, but who truly likes to be caught off guard?
When heavy snowfall and ice occur, the threat of power loss seems almost imminent within Stark County area. Paul's Lawn & Garden recommends that all homeowners should consider investing in one of their Honda portable and home generators. Generators are a reliable emergency power source in a time of need. If your home were to lose power due to inclimate weather, a home generator, such as the EM5000S or the EU3000iS would allow you to run several of the necessities including your furnace, refrigerator and even smaller appliances such as your coffee pot and microwave. This is not only to help you maintain comfort within your home during a power outage, but it will also help with saving you from losing money due to food spoilage.
If winter weather threatens the greater Canton area, you will be happy you invested in a generator, but what about the rest of the time?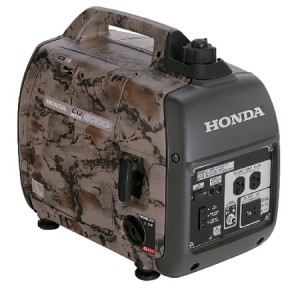 Choosing the correct generator is dependent on your needs. If you are planning on using it to power an appliance during a power outage or to take along to make your camping experience more comfortable, then you should invest in a portable generator. These are generally lighter and more cost efficient. Paul's Lawn & Garden, in Massillon, offers several different models of portable generators, from the more standard EU2000i, a light-weight generator that helps run your TV/DVD player, satellite and refrigerator to the more deluxe EU6500iS, a powerful generator that can be used interchangeably for your RV, work, home or recreational needs.
There's no need to wait until winter weather threatens your Massillon, Ohio or Canton, Ohio community, stop by Paul's Lawn & Garden and invest in your Honda portable and home generators. Regardless is you are looking for a reliable emergency power source or for something more recreational use, choosing the correct generator for your needs is important to your peace of mind and checkbook. If you find yourself unsure about which generator would be best for your Stark County, Ohio residence, visit http://paulslawnandgarden.com/ or contact them at 330.837.3189.