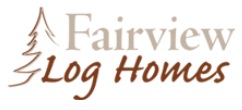 Although there are many different home types available on the market today, nothing quite compares to the timeless beauty a log cabin offers inside and out. However, finding a log cabin that meets your space and design preferences isn't always possible. For this reason, many choose to have the rustic home they've always wanted built by a custom log home builder like Fairview Log Homes. Why choose Fairview Log Homes over another contractor? Since 1980, Fairview Log Homes has crafted over 200 quality log homes for property owners throughout Ohio, West Virginia, and Pennsylvania. With years of experience, their knowledgeable craftsmen are able to build the affordable custom log home you've always dreamed of owning—usually in as little as 4 to 6 months! Best of all, their professional staff works one-on-one with each client to ensure the build stays on schedule and on budget throughout the building process.
In fact, Fairview Log Homes helps craft these homes from design to site preparation to the smallest interior detail! In this way, their friendly and knowledgeable staff is able to better craft the affordable custom log home you want for your Ohio, Pennsylvania, or West Virginia property just the way you envisioned it. Do you already have a design package of the log home you want already purchased? Even though Fairview Log Homes can work with you on creating a design, they are happy to craft the log cabin you want from a package you have already purchased. Of course, they would be happy to work with you to create a different design based on one you have purchased if you are not fully satisfied with its design as well. By offering so many possible design options, Fairview Log Homes is able to create more custom and quality log homes for more individuals throughout the region.
Did you know that Fairview Log Homes warehouses most of their own logs? By warehousing their own logs, these custom home builders are able to control the level of quality their products have rather than relying on an outside source to provide them with these materials. Standard logs Fairview Log Homes warehouses include western lodgepole pine and northern white cedar. Other species available to choose from for your build include eastern white pine, southern yellow pine, eastern red cedar, and more.
Even though there are natural materials being used to craft the affordable custom log home you want, Fairview Log Homes strives to be as environmentally friendly as possible. This is done by using natures standing dead timber to construct the quality log homes their clients want for their Ohio, Pennsylvania, or West Virginia property. They also utilize almost all of the logs used in the construction of the homes they build by turning smaller pieces into log siding or T&G siding. In this way, as little waste as possible is used to construct the rustic new home you've always dreamed of owning. Would you like to learn more about these custom log home builders and the advantages to choosing them for your next home build? If so, pay a visit to www.fairviewloghomes.net. Otherwise, feel free to call 330.359.5726 to speak to one of their knowledgeable staff members today!
If you'd like to receive $2,000 off the purchase of a custom log home, click HERE to take a short survey!
Fairview Log Homes
3375 County Road 160
Millersburg, OH 44654
www.fairviewloghomes.net
330.359.5726