By Fiona Vernon
For years, Mercedes-Benz of Akron has been providing businesses throughout the Northeast Ohio region with the affordable work vans they need to move their business forward—sometimes literally.  After all, a business with more mobility is able to expand further than just the area they are physically located. This ability to be mobile can also help businesses provide their products to customers more frequently. Best of all, contractors, caterers, florists, and many other professional businesses can benefit from having an affordable work van like those available at Mercedes-Benz of Akron.
Although they've had many affordable business vans in stock on their lot over the years, this local Mercedes-Benz dealership is proud to offer one of the most inexpensive Sprinter vans ever engineered: the Sprinter Worker Cargo Van. This commercial cargo van comes with a 144" wheelbase and standard roof. It also has a Gross Vehicle Weight Rating (GVWR) of 8,550 lbs, maximum payload capacity of 3,512 lbs, and a maximum towing capacity of 5,000 lbs. Inside, this affordable business van boasts 319.1 cu. ft. of cargo volume with an interior standing height of 66.5 inches and seating for two.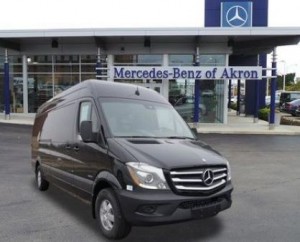 Of course, this commercial cargo van also has an assortment of quality safety features that help make it an ideal option for many businesses in Canton, North Olmsted, Bedford, and beyond. These safety features include:
Load-Adaptive Electronic Stability Program (ESP)
Crosswind Assist
Highbeam Assist
Blind Spot Assist
Back-Up Camera
And More
An additional feature the standard Sprinter Worker Cargo Van is equipped with is BlueEfficiency.  BlueEfficiency is a term used to encompass all of the emission-reducing and fuel-saving efforts being made by Mercedes-Benz on powertrain and ancillary components in each Sprinter Worker Cargo Van they craft. Through these changes, the 2-stage turbo 4-cylinder diesel engine these affordable business vans are equipped with are able to meet –as well as exceed– the most stringent of emission standards in the region. They also come standard with a quick shifting 7-speed automatic 7G-TRONIC transmission to provide lower fuel consumption, longer service life, and many other vehicle benefits.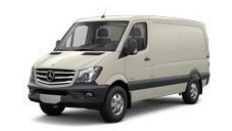 Because every business is different, Mercedes-Benz of Akron can help individuals find the Sprinter Worker Cargo Van that is right for them. After all, there are a variety of different customer packages available with these commercial vans at an additional cost. These packages consist of the CONVENIENCE package, UTILITY package, and OVERTIME package. Each of these customer packages provide additional features that the standard models do not that could be beneficial to certain drivers in Canton, North Olmsted, Bedford, and other areas throughout Northeast Ohio based on their business and driving needs.
There are also exterior features that could be added to these Sprinter Worker Cargo Vans such as roof rails or mud and snow tires. Additional interior features are also available, including:
Orange Seat Belts
Side Wall Paneling
Cargo Lashing Rails
Cargo Straps
And More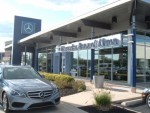 With these additional features and many others available, Mercedes-Benz of Akron is able to help more business owners obtain the quality work vehicle that is right for their day-to-day travels throughout the year.
To learn more about this local Mercedes-Benz dealership, visit their website at website at www.mercedesbenzofakron.com. Otherwise, call 1.800.686.4355 or visit their physical location to speak to one of their knowledgeable staff members today.
Mercedes-Benz of Akron
1361 E Market St.
Akron, Ohio 44305
www.mercedesbenzofakron.com
1.800.686.4355