Over the last decade, MDS Baseball Bats has made a name for itself by selling premium hardwood bats to high school and college teams throughout the country. One of the fastest growing manufacturers of wooden baseball bats in the country, MDS Baseball Bats is continuing their journey by offering game and practice bats to professional league players. This year, MDS Baseball Bats is proud to be able to sell professional-grade baseball bats to athletes in Cleveland, Ohio; Boston, Massachusetts; Chicago, Illinois; Baltimore, Maryland; Seattle, Washington; and across the country. As an MLB-certified bat manufacturer, MDS Baseball Bats will have the opportunity to demonstrate the durability, flexibility and hardness of their bats to teams within these organizations.
MDS Baseball Bats has worked hard to develop a unique bat profile suitable for practice and play. While most of the wooden baseball bats available today are mass-produced using the same framework, MDS Baseball Bats crafts each of their practice and game bats by hand for quality control.  Not only does this ensure that players receive premium hardwood bats without defects, but that their equipment fits their individual needs perfectly. The professional-grade bats from this MLB-certified bat manufacturer come in three different models, but the company also allows players to obtain custom bats of a specific length and weight if the need arises.
This company's dedication to quality is visible in each bat they produce. Using only high-grade ash, birch and maple lumber to craft their billets, MDS Baseball Bats goes out of their way to ensure that their wooden baseball bats suit the purpose for which they're purchased. The ash wood bats from MDS are good game bats as they have a higher level of flexibility but a lower level of hardness and durability. These bats are less likely to splinter during a game, making them a safer alternative to bats made of harder lumber.  On the other hand, their maple wood bats are excellent practice bats as they are more durable and have a surface hardness that is 15-25% greater than that of the ash. Finally, the birch wood bats from MDS Baseball Bats have become one of the best game and practice bats on the market. As the birch is harder than ash yet more flexible than maple, these premium hardwood bats can be used for regular training as well as competition.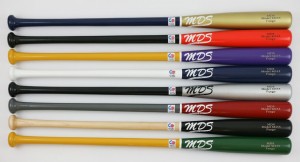 Players throughout Cleveland, Boston, Chicago, Baltimore and Seattle who have had the opportunity to try these professional-grade baseball bats have praised MDS Baseball Bats for crafting a bat with a great "sweet spot." In fact, players who have practiced with some of this MLB-certified bat manufacturer's products during the off-season have commented on the "serious pop" and "perfect balance." Other athletes who begin using these wooden baseball bats will undoubtedly see and feel the benefits of switching to MDS Baseball Bats.

As this newly MLB-certified bat manufacturer will be selling to professional players this year, they will no doubt be traveling throughout the Cleveland, Ohio; Boston, Massachusetts; Chicago, Illinois; Baltimore, Maryland; and Seattle, Washington areas, as well as across the country to showcase their products. However, if you'd like to learn more about these wooden baseball bats and why they make such great game and practice bats beforehand, visit their website at www.mdsbaseballbats.com. If you have any questions about these premium hardwood bats or would like to place an order, don't hesitate to give MDS Baseball Bats a call at 330.855.6305. Their staff would be happy to help you obtain the professional-grade baseball bats your team needs.
MDS Baseball Bats
Ph: 330.855.6305
www.mdsbaseballbats.com